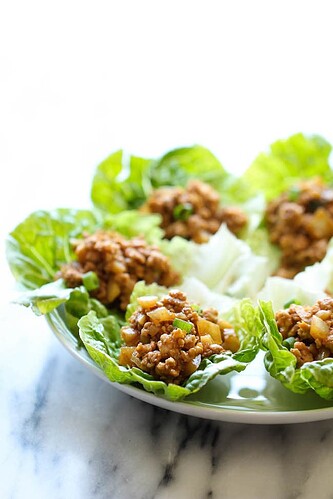 It is certainly important to have a very hot flame under a well-seasoned wok for this recipe to work the
absolute best, but it is certainly possible to produce a very close re-creation of these famous lettuce
wraps even without special equipment. If you don't have a wok, use a well-seasoned cast iron skillet.
Finding the right ingredients is the most important step. Black mushroom soy sauce is what contributes the dark caramel color to the lettuce wrap filling, and be sure to use Lee Kum Kee brand hoisin sauce and oyster sauce if you can find it for the closest match in flavor. Heat your wok (or a large skillet) up until it smokes and keep your ingredients moving around over the heat so nothing scorches.
Ingredients:
Filing
6 to 8 dried shitake mushrooms (1/2 cup finely chopped when rehydrated)
3 to 4 tablespoons vegetable oil
1 cup coarsely ground white meat chicken (about 1 skinless chicken breast fillet)
1/4 teaspoon salt
1/8 teaspoon white pepper
1 tablespoon plus 1 teaspoon minced garlic
1 cup finely chopped canned water chestnuts
1/4 cup chopped scallions
Table Sauce
1/2 cup warm water
2 tablespoons plus 1 teaspoon granulated sugar
3 tablespoons soy sauce
1 tablespoon rice vinegar
1 tablespoon chopped green onion
1/2 to 1 teaspoon Chinese hot mustard paste
1 to 3 teaspoons chili garlic sauce
Lettuce Wraps Sauce
1 tablespoon plus 1/2 teaspoon black mushroom soy sauce
5 tablespoons water
5 teaspoons granulated sugar
1 tablespoon hoisin sauce (Lee Kum Kee is best)
1 tablespoon oyster sauce (Lee Kum Kee is best)
1 tablespoon Shao Hsing rice cooking wine
1 teaspoon cornstarch
1 to 1 1/2 cups fried maifun rice sticks
4 to 6 cups vegetable oil (for frying maifun)
6 iceberg lettuce cups
Instructions:
Rehydrate the shitake mushrooms by filling a medium saucepan about halfway with water and 1 teaspoon of salt. Bring water to a boil over high heat, then turn off the heat and add the mushrooms. Let the mushrooms soak for 30 minutes to an hour or until they are soft. Use a smaller pan or bowl to push down on the mushrooms to make sure they are completely submerged in the water.

Make the table sauce (for spooning over your lettuce wraps) by dissolving the sugar in the water in a small bowl. Add the soy sauce and rice vinegar. Add the chopped green onion and set the sauce aside until you're ready to serve the lettuce wraps. Eventually you will add Chinese mustard and garlic chili sauce to this special sauce mixture to pour over each of your lettuce wraps. In the restaurant, waiters prepare the sauce at your table the same way based on your desired heat level. We'll get into the specifics of that in step #9.

Prepare the lettuce wrap sauce by mixing black soy sauce, 2 tablespoons water, sugar, hoisin sauce, oyster sauce, and cooking wine in a small bowl. Heat for 30 seconds in the microwave on high and stir to dissolve sugar. Dissolve the cornstarch with remaining 3 tablespoons of water in a small bowl and add this slurry to the lettuce wrap sauce.

Prepare the maifun rice noodles by preheating 4 to 6 cups of oil in a wok or sauce pan over high heat. When the oil is hot, flash fry the maifun for just a second or two until it puffs up, then remove it from the oil.

Prepare lettuce cups by slicing the top off a head of lettuce through the middle. Carefully remove firm leaves of lettuce and use kitchen scissors to trim the edges from 6 lettuce leaves so that they are each about 5 inches in diameter.

Preheat a wok (or skillet) with the oil over very high heat. When the oil begins to smoke, add the chicken and stir it when it begins to brown. As the chicken cooks, sprinkle it with salt and white pepper.

Add the garlic and let it cook for 20 seconds or until it begins to brown, then add mushrooms and water chestnuts and cook for a minute or two. Add the lettuce wrap sauce. Continue cooking until the sauce reduces. Add the green onions and remove the wok or pan from the heat.

Arrange a bed of maifun rice noodles on a serving plate. Spoon the lettuce wrap filling onto the rice noodles and serve with lettuce cups on the side.

Prepare the table sauce for spooning onto the lettuce wraps by adding your desired measurement of hot mustard and chili sauce based on preferred spiciness: 1 teaspoon of chili sauce for MILD, 1/2 teaspoon of mustard paste plus 2 teaspoons of chili sauce for MEDIUM, and 1 teaspoon of mustard paste and 3 teaspoons of chili sauce for HOT. Stir well.

To eat, assemble each lettuce wrap by spooning the filling into a lettuce cup, adding the sauce over the top and eating it like a taco.
Serves 3 as an appetizer.