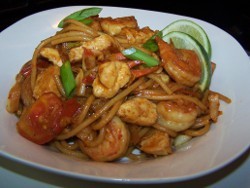 6 ounces rice noodles, cooked according to the package instructions
8 ounces shrimp, peeled and deveined
6 ounces chicken breast, cut into bite sized pieces
2 garlic cloves, minced
2 tablespoons soy sauce
2 cups cabbage, thinly sliced
1 carrot, thinly sliced
1 shallot, thinly sliced
1 roma tomato, cut into bite sized pieces
2 scallions, chopped
2 tablespoons peanut oil
FOR THE SAUCE:
2 tablespoons dark brown sugar
1 tablespoon curry powder
1 tablespoon sriracha sauce
2 tablespoons soy sauce
2 tablespoons rice wine vinegar, or cider vinegar
Chopped scallions and lime wedges, to garnish
Stir together all of the sauce ingredients and set it aside.
Toss the chicken with one clove of minced garlic and 1 tablespoon of soy sauce.
Toss the shrimp with the other clove of minced garlic and tablespoon of soy sauce.
In a large nonstick skillet over a medium high heat add 1 tablespoon of oil and sauté the chicken,
stirring occasionally for 2 to 3 minutes or al dente until it is almost cooked.
Add the shrimp and sauté for about 2 minutes on the first side and a minute on the second side then remove the shrimp and chicken from the pan and set it aside.
Add the other tablespoon of peanut oil and all of the veggies to the pan and sauté for 2 minutes stirring occasionally then add the cooked shrimp and chicken back to the pan and stir them together.
Add the cooked noodles to the pan and pour over the sauce then toss everything together until it is well coated and heated through.
Garnish with the lime wedges and chopped scallions and serve.
To Make the Dressing:
Whisk all ingredients together until smooth and keep stored in the refrigerator in an air tight container for up to 1 week.
To Make the Blue Cheese Pecan Chopped Salad:
Add the lettuce, cabbage, carrots and scallions to a large mixing bowl; then add the prepared pecans and dressing.
Mix well, top with the crumbled blue cheese.