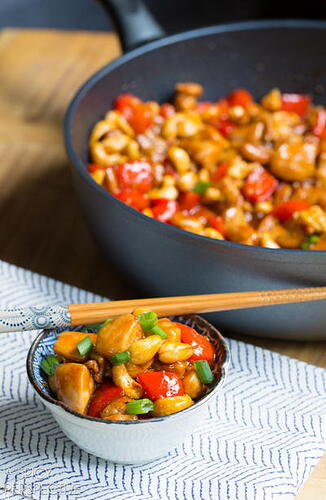 2 pounds boneless skinless chicken thighs, cut into bite-size pieces
2 tablespoons coconut oil
2 red bell peppers, seeded and cut into bite-size pieces
1 1/3 cups raw whole cashews
1 large bunch scallions, chopped
2 tablespoons arrow root powder ( instead of 1 tablespoon cornstarch)
1/2 teaspoons sea salt
For the Sauce:
1/3 cup coconut aminos (instead of soy sauce)
1/4 cup coconut vinegar (instead of rice vinegar)
2 tablespoons tomato paste
3 tablespoons palm sugar or raw honey (instead of sugar)
3 cloves garlic, minced
1 tablespoon fresh grated ginger
1/4 - 1/2 teaspoons crushed red pepper
Preheat a large deep skillet to medium high. Add the coconut oil and once melted, add the red bell pepper. Saute for 2-3 minutes to softened. Then scoop out the bell pepper.
Sprinkle the arrow root powder and salt over the cut chicken pieces and toss to coat. Add the chicken to the skillet. Stir and saute for 5-8 minutes until the chicken is mostly cooked through and seared on the outside.
Meanwhile, whisk all the ingredients for the sauce in a small bowl. Once the chicken is mostly cooked, add the sauce to the skillet and stir. Add the red bell peppers and cashew to the skillet. Once the sauce starts to simmer, lower the heat to medium-low, and simmer another 3-5 minutes to thicken.
If the sauce tightens up too much, add a little water to loosen it. Turn the heat off and add the chopped scallions.