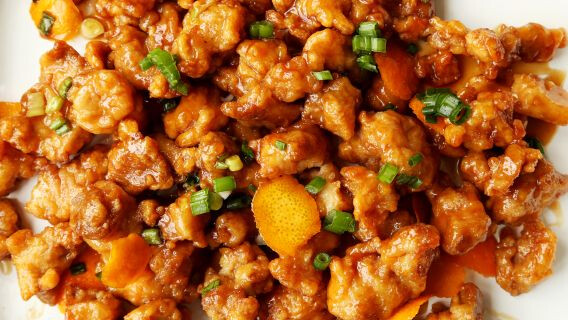 2 pounds boneless chicken pieces, skinned
1 egg
1 1/2 teaspoons salt
White pepper
Oil
1/2 cup plus 1 tablespoon cornstarch
1/4 cup flour
1 tablespoon minced ginger root
1 teaspoon minced garlic
Dash crushed hot red chiles
1/4 cup chopped green onions
1 tablespoon rice wine
Orange Chicken Sauce (recipe below)
1/4 cup water
1/2 to 1 teaspoon sesame oil
Cut chicken pieces into 2-inch squares and place in large bowl. Stir in egg, salt, pepper
and 1 tablespoon oil and mix well. Stir cornstarch and flour together. Add chicken pieces, stirring to coat.
Heat oil for deep-frying in wok or deep-fryer to 375 degrees. Add chicken pieces, small batch at time, and fry 3 to 4 minutes or until golden and crisp. (Do not overcook or chicken will be tough.) Remove chicken from oil with slotted spoon and drain on paper towels. Set aside.
Clean wok and heat 15 seconds over high heat. Add 1 tablespoon oil. Add ginger and garlic and stir-fry until fragrant. Add and stir-fry crushed chiles and green onions. Add rice wine and stir 3 seconds. Add Orange Sauce and bring to boil. Add cooked chicken, stirring until well mixed. Stir water into remaining 1 tablespoon cornstarch until smooth.
Add to chicken and heat until sauce is thickened. Stir in 1 tablespoon oil and sesame oil.
Serve at once. Makes 6 servings.
Each serving contains about:
357 calories; 941 mg sodium; 115 mg cholesterol; 16 grams fat; 27 grams carbohydrates; 26 grams protein; 0.09 gram fiber.
Orange Chicken Sauce
1 1/2 tablespoons soy sauce
1 1/2 tablespoons water
5 tablespoons sugar
5 tablespoons white vinegar
Mix soy sauce, water, sugar and vinegar.
Source: LA Times newspaper, October 22, 1992