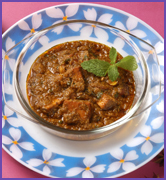 Ingredients :
½ onion
1 tomato
Ginger small pieces
10 garlic cloves
10 Mint leaves
10 green chillies
Cilantro
1 piece cardamom
2 pieces of cloves
2 tbsp butter
1 litre whole milk
Method :
To make Panneer :
Bring 1 litre whole milk to a boil.
Add two spoons of Lemon juice and a laddle of fermented Yogurt. The milk and water gets separated.
Strain the water and put the paneer in a muslin cloth and keep a heavy weight on top of it for a few hours.
After the paneer gets set, steam it in a pressure cooker for five minutes.
Remove the panner and make it into cubes.
Deep fry the panneer cubes in oil.
Masala :
Heat butter in a pan.
Allow it to melt. Then add the clove and cardamom. Fry for a second.
Add finely cut Garlic, Ginger, Chillies and onions. Fry all these things nicely.
When the onions turn golden brown and gives a nice aroma, add the tomatoes and fry.
Fry all the ingredients nicely for 15 minutes making sure that nothing sticks to the bottom of the pan.
After frying well, remove the pan from stove.
Add mint leaves just before removing the pan. And cool the masala.
Grind the masala well in a mixie with water . Masala should be of medium consistency.
Heat the pan, and add the ground masala. To this add salt to taste and the fried paneer cubes.
Cook this in slow fire for 15 - 20 minutes.
Garnish with cilantros and serve with hot Parathas.