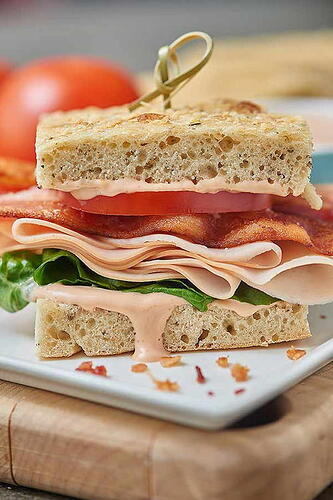 Special Sauce:
1 cup mayonnaise
½ cup ketchup
2 tablespoons lemon juice, freshly squeezed
½ teaspoon dried mustard
1 teaspoon Worcestershire sauce
Dash of hot sauce, more or less to taste
Sandwich fixings:
1 loaf herbed parmesan focaccia
6 tomato slices
Romaine lettuce
Thinly sliced turkey
12 slices bacon, cooked
6 slices smoked gouda
Take two pieces of focaccia and spread on the special sauce.
On top of one piece of bread layer lettuce, turkey, bacon, tomato and cheese!
Top with the other slice of bread!
Notes
The recipe is made for 6 servings, but can be easily scaled down to just one or a couple sandwiches!