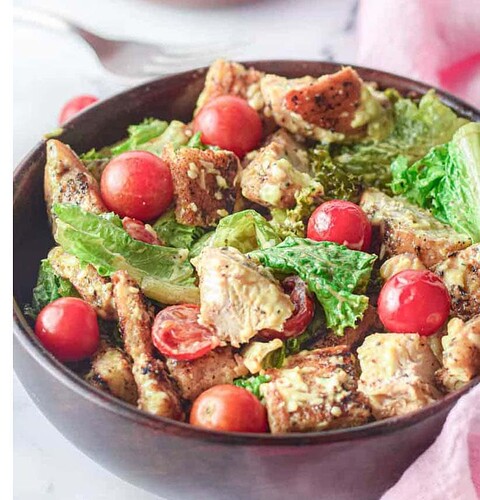 For the chicken:
2 boneless skinless chicken breasts
1 teaspoon salt
1 teaspoon ground black pepper
1 tablespoon olive oil
For the croutons:
2 slices white bread
1 teaspoon olive oil
For the salad:
1 medium romaine lettuce washed and chopped
½ cup cherry tomatoes cut into halves
For the dressing:
½ cup mayonnaise
1 tablespoon Dijon mustard
1 teaspoon fresh lime juice
½ teaspoon minced garlic
¼ cup grated parmesan cheese
3 tablespoons olive oil
¼ teaspoon salt
¼ teaspoon ground black pepper
Season the chicken breast with 1 teaspoon of salt and 1 teaspoon of pepper.
In a pan, heat 1 tablespoon olive oil over medium-heat.
Add the chicken and cook it on both sides until done (internal temperature of 165 degrees). It will be crispy on the outside and soft and juicy on the inside.
Take the chicken out of the pan and cut it into bite-size pieces.
Toast the bread into the toaster and cut it into cubes.
Coat the croutons with 1 teaspoon of olive oil.
Mix mayonnaise, Dijon mustard, lime juice, olive oil, parmesan, minced garlic, ¼ tsp salt, and ¼ tsp black pepper.
In a medium bowl, add lettuce, followed by chicken pieces and croutons.
Pour the dressing over the salad.
Add the cherry tomatoes and toss to combine.