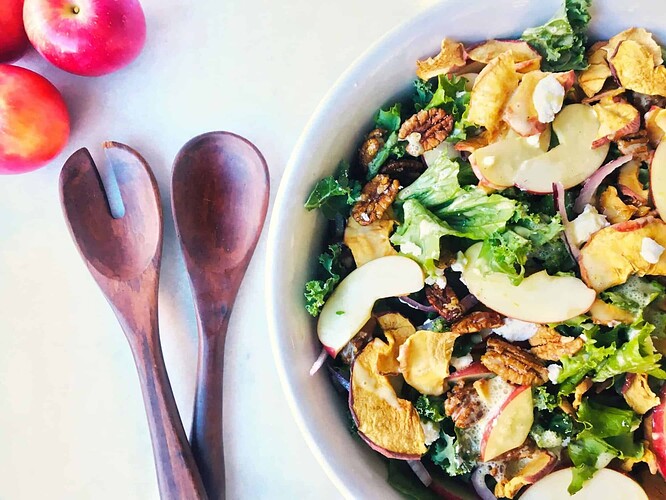 Vinaigrette:
1 cup apple cider not juice
½ cup olive oil
½ cup apple cider vinegar
2 Tablespoons sugar
1 Tablespoon fresh onion grated
1 teaspoon ground mustard (powder)
1 teaspoon salt
⅛ teaspoon pepper
Salad:
1 head Romaine or green leaf lettuce
2 Fuji apples
3.4 ounces Fuji apple chips*
½ medium red onion
1 cup pecans
2 Tablespoons sugar
4 ounces goat cheese
Vinaigrette:
Cook apple cider in a saucepan until it reduces to ½ cup. Let cool.
Place all ingredients in a blender and purée. Store in airtight container in refrigerator. Keeps 2 weeks.
Salad:
Wash and dry lettuce and chop into bite-size pieces. Set aside. Thinly slice apples, removing the core. Then, thinly slice red onion. Crumble goat cheese and set aside.
Place pecans into frying pan on high heat. Add sugar and stir just until sugar melts on pecans. Pour pecans onto lightly greased foil or other non stick surface.
Place all ingredients except goat cheese in a large bowl. Toss salad with ½ cup of vinaigrette and then sprinkle the goat cheese on top and serve immediately.