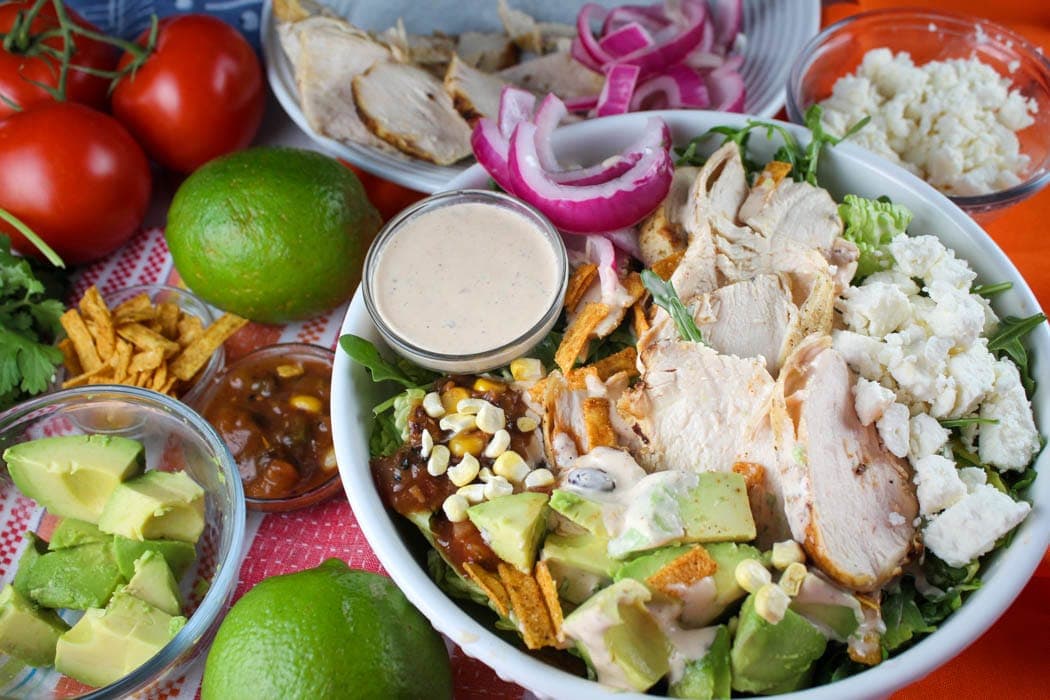 2 chicken breasts
1.5 cups mojo criollo marinade
1/4 cup pickled red onion
3 cup romaine lettuce chopped
1 cup arugula
1/4 cup black bean & corn salsa
1/4 cup cilantro chopped
1 avocado diced
1/4 cup feta crumbled
1/4 cup tortilla strips
1/3 cup Jalapeno Lime Ranch Dressing
1/4 cup Ortega Chipotle Taco Sauce
Night before:
Marinate chicken in Mojo Criollo marinade in the refrigerator
Mix together Jalapeno Lime Ranch Dressing and add Chipotle Taco Sauce and refrigerate overnight
Mix together Quick Overnight Pickles and place rings from 1/2 red onion in
Assembly:
Cook chicken breasts. Flip halfway thru and temp to 160-165. Let rest until ready to serve.
Slice chicken breast into strips, core avocado and dice
In 2 salad bowls, layer the lettuce and arugula.
Top with 1/4 cup red onions, salsa, diced avocado, sliced chicken, feta, tortilla strips and fresh cilantro, if desired.
Toss with dressing.