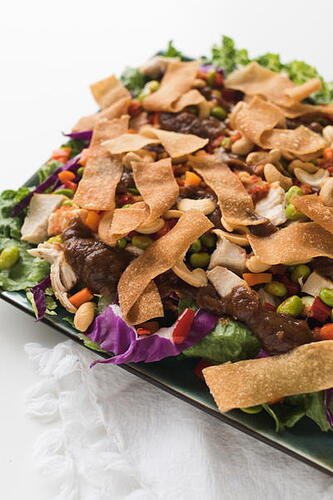 1 small head of Romaine lettuce, washed and torn into bite sized pieces
1 cup shredded red cabbage
2 skinnless, boneless chicken breasts, grilled or seared, and cut into bite sized pieces
1 tablespoon olive oil
1 cup edamame
1 red pepper, diced
1 large carrot, diced
2 green onions, sliced
1/2 cup cashews
1 cup wontons
2 tablespoons rice vinegar
2 teaspoons lime juice
1 teaspoon finely minced fresh ginger
2 tablespoons Thai chili garlic paste
1 teaspoon sesame oil
1/4 teaspoon brown sugar
1/4 teaspoon garlic powder
Kosher salt to taste
2 tablespoons vegetable oil
1/2 tablespoon Thai chili garlic paste
1/2 cup creamy peanut butter
4 tablespoons hoisin sauce
1/2 tablespoon rice wine vinegar
2 tablespoons soy sauce
1/4 cup water
1 tablespoon toasted sesame oil
To prepared the edamame: In a skillet, heat a tablespoon of olive oil. Add the edamame, red pepper, and diced carrot. Cook until lightly cooked and roasted. Set aside.
To prepare the vinaigrette dressing: In a small bowl, whisk together the rice vinegar, lime juice, minced ginger, Thai chili garlic paste, sesame oil, brown sugar, garlic powder, and salt. Set aside.
To make the peanut butter sauce: Heat 2 tablespoon of oil in a small sauce pan. Add the Thai chili garlic paste, and cook for 30 seconds. Whisk in the peanut butter and hoisin sauce. Cook until heated. Remove from the heat and whisk in the rice wine vinegar, soy sauce, and water until smooth. Whisk in the sesame oil.
To assemble: In a large bowl or on a large platter, arrage the Romaine lettice, cabbage, chicken, cooked vegetable mixture, green onions, and cashews. Pour the vinaigrette over the salad. Drizzle with peanut sauce over the whole thing, and top with wonton strips.