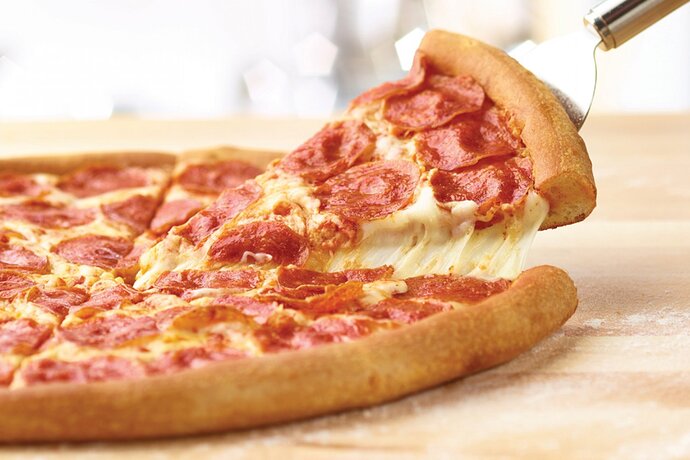 Crust:
8 cups all-purpose flour
6 Tablespoons sugar
6 3/4 teaspoons fast rising yeast
1 1/2 teaspoons salt
3 cups very warm water (120 to 130 degrees F)
6 Tablespoons vegetable oil
Sauce:
3 (10.34 ounce) cans tomato puree
3/4 cups water
3 teaspoons sugar
3 teaspoons olive oil
3/4 teaspoon lemon juice
3/4 teaspoon salt
3/4 teaspoon oregano
3/8 teaspoon basil
3/8 teaspoon thyme
3/8 teaspoon garlic powder
Combine all ingredients in a large sauce pan over medium heat. Bring to a boil. Reduce heat to low and let simmer for 15-20 minutes.
Preheat oven to 450 degrees. In a large bowl, combine flour, sugar, undissolved yeast, and salt. Gradually add water and oil to mixture. Blend at low speed until moistened, then beat for 2 minutes at medium speed until dough pulls away from sides of the bowl. On a lightly floured surface, knead until dough is smooth and elastic. Cover loosely with plastic wrap and let rest in a warm place for 15 minutes. Press out dough onto 3 pizza pans. Poke the dough randomly with a fork. Let rise again in a warm place for 10-15 minutes. Brush crusts lightly with oil and bake them for 5 minutes. Remove from oven and top as desired. Bake for 4-5 more minutes or until the crust is golden brown.
Makes 3 pizzas