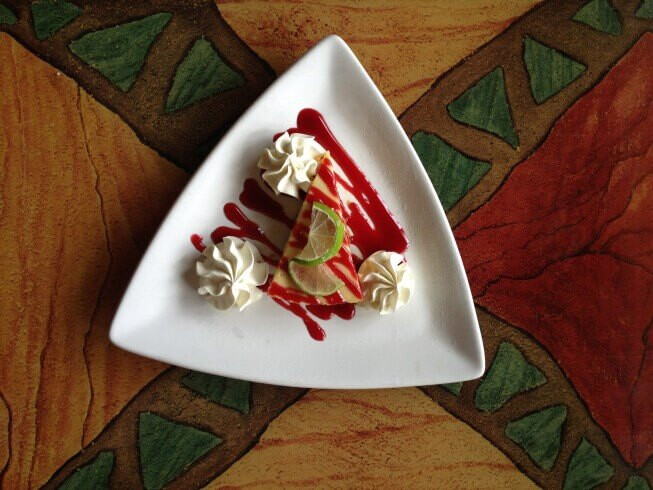 Filling:
1 - 8 ounce Cream Cheese (softened)
1 Can Sweetened Condensed Milk
2/3 cup Cold Water
3 Egg Yolks (beaten)
1/8 teaspoon Salt
1/2 cup Flour
5 tablespoons Rose's Sweetened Lime Juice
5 tablespoons Key Lime Juice or Reconstituted Lime Juice
1 teaspoon Lime Zest (very fine)
Pie Crust:
3/4 cup Graham Cracker Crumbs
1 cup Ground Pecans ( finely ground )
3 tablespoons Sugar
1/2 teaspoon Cinnamon
4 tablespoons Butter Melted
Raspberry Sauce
3/4 cup Raspberry Preserves
1/4 cup Water
Beat cream cheese until light and fluffy add sweeten condensed milk, beat mixture until completely blended. Use a 2 quart sauce pan to whisk egg yolks with water, add salt and flour. Stir constantly, completely mixing flour into liquid. Add lime zest, Roses Lime Juice and Key Lime juice. On low heat, or in a double boiler whisk the egg mixture and stir constantly until mixture thickens resembling pudding in texture and thickness. When egg and flour mixture is thickened add cream cheese. Whisk constantly taking care not to scorch the bottom of pan. Stir until pie filling starts to thicken and is completely mixed. When the filling is thick pour into the prepared pie shell. Chill pie several hours before serving.
Pie Crust:
Mix all together in a bowl, add melted butter blend well. Press into a buttered pie pan. Place in a preheated at 350 degrees oven for 7 - 10 minutes. When crust is slightly golden remove from oven and cool.
Raspberry Sauce:
Mix in sauce pan until preserves reaches boiling point. Simmer for 4 minutes remove and pour through a fine strainer removing seeds and chill.
Sauce may be used to garnish pie when served.
Yield: 12 servings