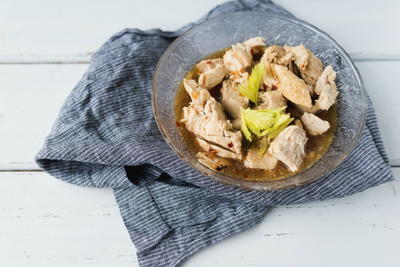 2 Chicken breasts
1 can Thai Kitchen coconut milk (full fat)
1 teaspoon Chinese 5-spice
1 teaspoon Red pepper flakes
1 cup Sugar
1 cup Chicken broth
6 tablespoons Soy sauce
1 pinch Red pepper flakes
1 teaspoon lemon pepper
2 teaspoons Apricot Jam
1 tablespoon Corn starch
1 tablespoon Water
Add the chicken breasts to the slow cooker. Pour coconut milk over top.
Add Chinese 5-Spice and red pepper flakes and stir until chicken is coated and spices are mixed in.
Cook on low for 5 hours.
Minutes before the chicken will be done, make the sauce.
In a medium pot, combine sugar, chicken broth, soy sauce, pinch of red pepper flakes, and lemon pepper.
Add apricot jam.
Bring to a boil over medium-high heat. Lower heat to medium.
Simmer for 15-20 minutes, until slightly reduced.
Combine corn starch and water and stir into sauce to thicken, whisking until combined.
Remove chicken from the slow cooker and drain the cooking juices.
Slice or shred chicken and toss with sauce.
Serve over rice or noodles.