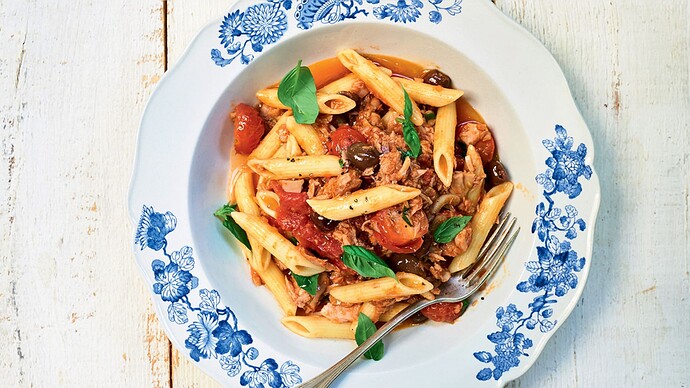 1 garlic clove, crushed
1 shallot, diced
One 2-ounce tin of anchovies, drained
One 14-ounce can of peeled plum tomatoes
2 teaspoons red wine vinegar
2½ cups penne (or any other kind of dried pasta)
10 Taggiasca (or Nicoise) olives, pitted
1 cup halved cherry tomatoes
Two 5-ounce tins of tuna in olive oil, drained
Salt and pepper
Olive oil
½ bunch of basil, leaves only
Heat a generous splash of olive oil in a frying pan over medium-high heat and cook the garlic and shallot for 2 to 3 minutes, until soft. Add the anchovy fillets and let them "melt" while stirring continuously, about 2 minutes.
Add the tomatoes and vinegar and let the mixture simmer for 3 to 4 minutes with a lid on, then crush with a potato masher.
Meanwhile, put a pan with plenty of salted water over medium-high heat and cook the penne according to the package directions.
Add the olives and cherry tomatoes to the shallot-tomato mixture and gently simmer for a few minutes over low heat. Fold in the drained tuna, heat through for 2 minutes, and season with pepper and salt if needed.
Once cooked, drain the penne in a colander and carefully stir the pasta through the tomato sauce. Divide the pasta puttanesca between two plates, drizzle with some olive oil, and serve garnished with basil.