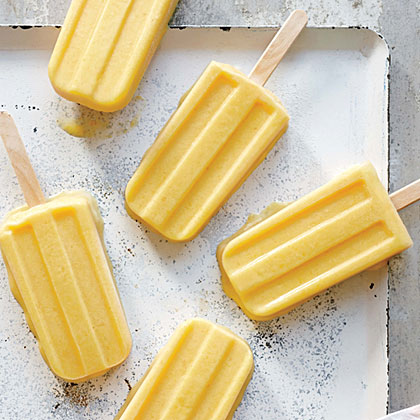 1/4 cup sugar
1 tablespoon corn syrup
1/2 teaspoon vanilla extract
1/4 teaspoon salt
3 large, slightly firm peeled peaches, chopped
1 tablespoon fresh lemon juice
1/3 cup heavy whipping cream
Combine first 5 ingredients in a medium saucepan over medium-high heat; bring to a boil. Reduce heat to medium, and simmer 5 minutes or until peaches are very tender, stirring frequently. Place peach mixture and lemon juice in a food processor; process until smooth. Refrigerate 1 hour. Stir in cream.

Divide peach mixture evenly among 8 (4-ounce) ice-pop molds. Top with lid, and insert a craft stick into center of each mold; freeze 6 hours or until thoroughly frozen.