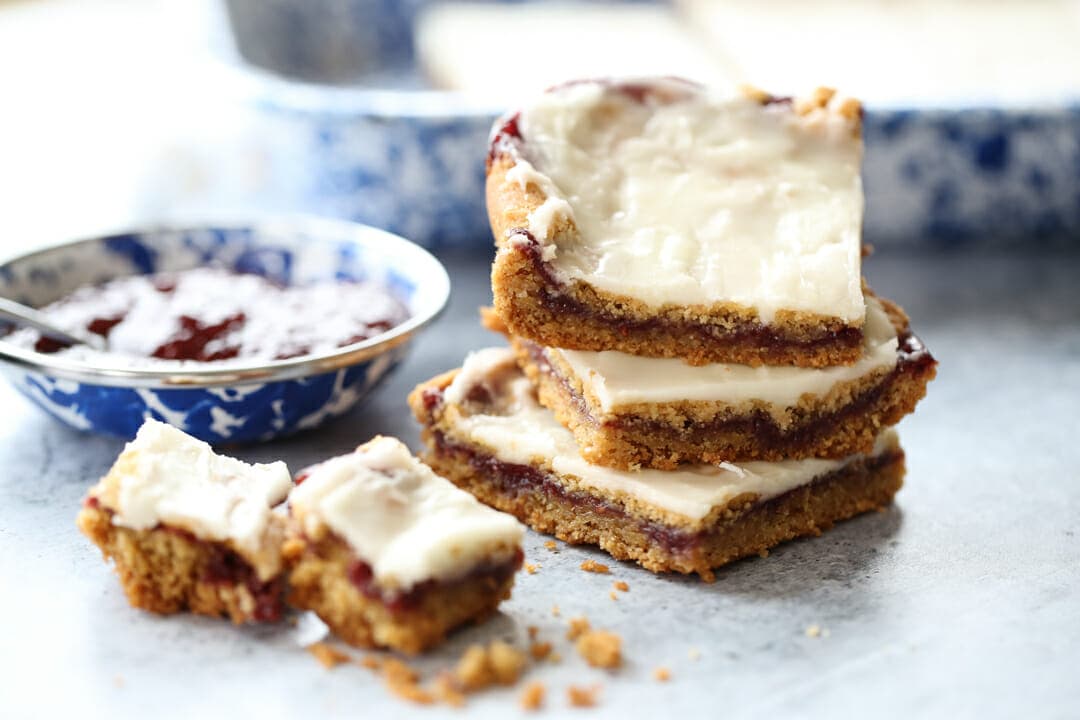 1/2 cup sugar
1/2 cup brown sugar
1/2 cup shortening
1/2 cup creamy peanut butter
1 large egg
1 teaspoon vanilla extract
1 1/4 cups flour
3/4 teaspoon baking soda
1/2 teaspoon baking powder
3/4 cup strawberry or raspberry jam
GLAZE:
1/4 cup (4 tablespoons) real butter, melted
2 cups powdered sugar
1 teaspoon vanilla extract
2 tablespoons hot water
Preheat oven to 350 degrees.
Cream shortening and both sugars together until light and fluffy. Add peanut butter and combine. Add egg and vanilla and mix until combined. Whisk together flour, baking soda, and baking powder and then add to dough until incorporated.
Reserve 3/4 – 1 cup dough for later use.
Take the remaining dough and press it into the bottom of an ungreased 9×13 pan. I crumble it evenly all over the bottom of the pan and then press it in with my fingers. Crumbling it first helps to create an even thickness.
Spread jam on top.
Take remaining dough and use your fingers to smash it into thin pieces and place on top of jam. It's okay if jam still shows through.
Bake at 350 for 20-30 minutes. The top should be set and just barely golden brown. In my oven it's always about 24-25 minutes.
When done, remove from oven and cool on a rack. While it's cooling you can mix up your glaze. Whisk the butter, powdered sugar, and vanilla together. Add water while whisking until glaze reaches desired consistency.
Wait until they are completely cooled to room temp to glaze (or it really melts all over and falls to the center of the pan and forms a little pool in which you will impulsively dip your finger over and over again until the little pool is no more.)
Let glaze set and then slice into squares.