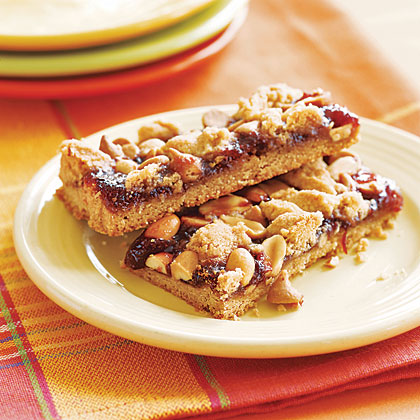 1 stick (1/4 lb.) unsalted butter, softened
3/4 cup sugar
1 large egg, at room temperature
1/2 teaspoon vanilla extract
1 cup creamy peanut butter
1 1/2 cups all-purpose flour
1/2 teaspoon baking powder
1/2 teaspoon salt
1 1/2 cups strawberry preserves
2/3 cup salted peanuts
2/3 cup peanut butter chips
Preheat oven to 350°F. Butter and lightly flour a 9-by-13-inch baking pan.
Using an electric mixer on medium speed, cream butter and sugar until light and fluffy. Lower speed; add egg, vanilla and peanut butter and beat until combined.
In a separate bowl, sift flour, baking powder and salt. On low speed, slowly add flour mixture to peanut butter mixture. Mix until just combined. Set aside 1/2 cup dough.
Using your fingertips, press remaining dough into an even layer in pan. Spread preserves over dough. Crumble reserved 1/2 cup dough over preserves and then sprinkle with peanuts and peanut butter chips.
Bake until golden and bubbly, 45 minutes. Cool on a wire rack and cut into bars.