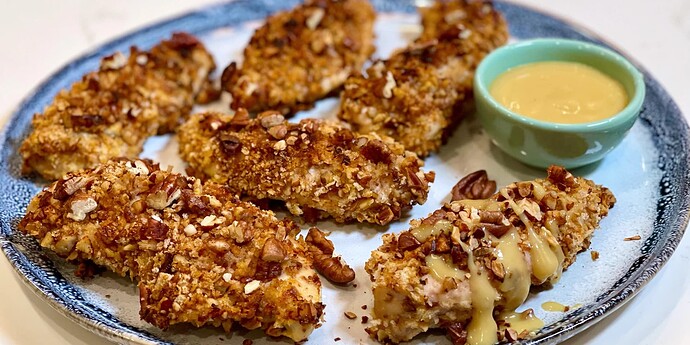 Chicken Fingers:
nonstick cooking spray
1 cup pecans, finely chopped
1/2 cup panko breadcrumbs
1 teaspoon garlic powder
1 teaspoon smoked paprika
1-1½ teaspoons kosher salt
2 eggs
2 tablespoons mayo
1½ pounds chicken tenderloins or breasts cut into strips
Honey Mustard Dipping Sauce:
3 tablespoons mayo
2 tablespoons Dijon mustard
2 tablespoons honey
For the chicken fingers:
Preheat the oven to 400 F. Mist a baking sheet with nonstick cooking spray and set aside.
In a wide, shallow bowl, stir together the pecans, panko, garlic, paprika and salt.
In a second wide, shallow bowl, whisk the eggs and light mayonnaise until well-blended.
One at a time, dip the chicken pieces into the egg mixture, letting any excess egg drip off, then place into the pecan-breadcrumb mixture (pat all sides to fully coat with breading).
Place the chicken on the baking sheets and mist the tops with oil spray. Bake in the oven for about 20 minutes, carefully flipping them at the 10-minute mark using tongs or a wide spatula (it's important to flip them at the halfway mark to prevent the pecans from burning and to ensure the underside becomes crispy). Chicken is done when it reaches an internal temperature of 165 F.
For the honey mustard dipping sauce:
Mix the mayo, mustard and honey together until smooth, and serve on the side.
Notes
If you have an oven rack handy, set it on the baking sheet and position your chicken on top for even more crispiness. Also, if you have an extra 15 to 30 minutes, marinate the chicken beforehand with some plain yogurt, as it'll ensure your chicken is tender and juicy.