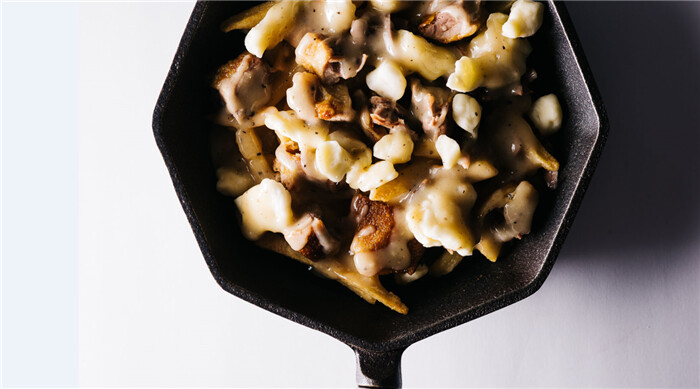 1 T duck fat
1 T flour
½ cup chicken stock
salt and freshly ground pepper
2 servings of hot fries
1 cup cooked duck, chopped or shredded
½ cup white cheddar cheese curds
1 - 2 green onions, sliced
handful of fresh cilantro, roughly chopped
sriracha, to taste
hoisin, to taste
Start by making the duck gravy: melt the duck fat over medium heat. Sprinkle on the flour and cook, stirring constantly until the flour is incorporated, 2-3 minutes. Pour the stock into the pan in a thin stream, while stirring. Stir and bring to a simmer to thicken. Taste and season with salt and pepper.
Place the fries in an oven-safe dish. Top with the duck and cheese curds. Pour on the gravy. Pop the dish into the oven on broil for a couple of minutes, just to help the cheese curds soften and melt a bit. Remove, top with green onions, cilantro and a drizzle of sriracha and hoisin. Enjoy hot!
Notes
If you don't have duck fat you can use butter or any other type of animal fat. Just make sure the stock you use is super flavourful so your gravy is tasty!