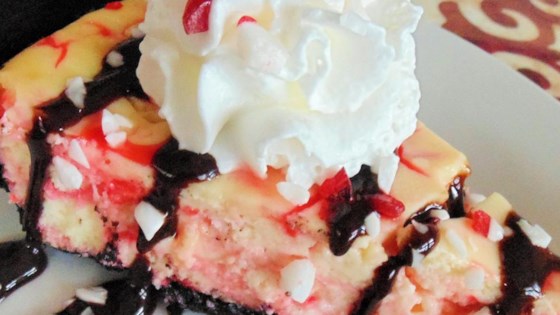 1 cup chocolate cookie crumbs
3 tablespoons melted margarine
1 (.25 ounce) envelope unflavored gelatin
1/4 cup cold water
2 (8 ounce) packages cream cheese
1/2 cup white sugar
1/2 cup milk
1/4 cup crushed peppermint starlight candies
1 cup whipped cream
2 (1.55 ounce) bars milk chocolate candy bars, finely chopped
Preheat oven to 350 degrees F (175 degrees C).
Stir cookie crumbs and margarine in a bowl until evenly moistened; press into the bottom of a 9-inch springform pan.
Bake in the preheated oven until lightly darkened, about 10 minutes. Remove from oven and cool to room temperature; about 30 minutes.
Stir gelatin and cold water in a small saucepan over low heat until gelatin dissolves completely, about 3 minutes.
Beat cream cheese and sugar with an electric mixer in a large bowl until smooth. Gradually add gelatin mixture, milk, and peppermint candy; mix until well-blended. Chill filling until thickened, about 2 hours.
Fold whipped cream and chocolate into filling. Pour filling into crust; chill until firm, about 1 hour.
Tip
Parchment can be used for easier cleanup/removal from the pan.