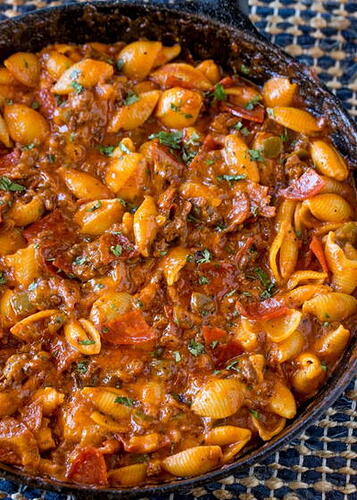 1 pound large shells pasta
1 pound lean ground beef
2 tablespoons butter
1 small yellow onion diced
1 small green bell pepper diced
6 ounces pepperoni quartered
2 cups marinara sauce
2 teaspoons Italian seasoning
1/2 teaspoon Kosher salt
1/2 teaspoon fresh ground black pepper
8 ounces mozzarella cheese shredded
Cook the large shell pasta according to the directions on the bag and drain (do not rinse).
Add the ground beef to a large cast iron skillet (this browns very well) and brown until a deep brown crust appears before breaking the beef apart.
Stir the ground beef and brown until a deep crust appears on about 50 or so percent of the beef.
Remove the beef (you can leave the fat) and add the butter and the onions and bell peppers.
Let brown for 1-2 minutes before stirring, then let brown for another 1-2 minutes before stirring again.
Add the beef back into the pan.
Add the marinara sauce, pepperoni, Italian seasoning, salt, and black pepper into the pan.
Cook until the mixture is only slightly liquidy (about 75% of the mixture is above liquid), 3-5 minutes.
Add the pasta back to the pan and mix together gently.
Turn off the heat, add in the mozzarella cheese and stir until melted.