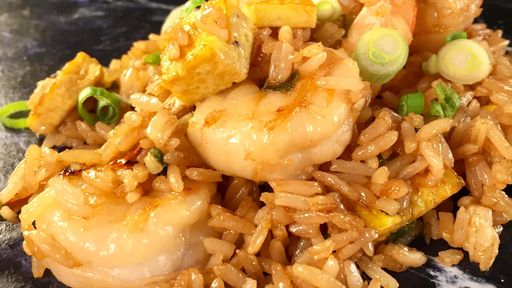 Day Old Rice:
1 tablespoon olive oil
1 tablespoon garlic powder
3 cups water
1 tablespoon salt
2 cups white rice (rinsed)
Chaufa:
4 eggs
1 tablespoon olive oil
2 slices fresh ginger (peeled, quartered)
1/2 cup scallions (thinly sliced, light green and dark green parts only)
1 tablespoon powdered garlic
1 pound shrimp (peeled, de-veined)
2 cups day old white rice (recipe above)
3 tablespoons soy sauce
salt and pepper (to taste)
For Day Old Rice:
In a large saucepan over medium heat, warm the olive oil.
Stir in the garlic powder and cook until browned and toasted, about 1 minutes.
Add water and salt and bring to a boil.
Add the rice and cook until small holes have formed and most of the water has evaporated.
Reduce heat to a simmer and cover. Cook for 20 minutes, stirring with a fork halfway through.
Remove from heat and fluff with a fork.
Set aside if using immediately or once cooled, store in an airtight container for use the following day.
For Chaufa: In a medium bowl, whisk together the eggs and season with salt and pepper.
In a medium nonstick skillet over medium heat, add the eggs, tipping the pan to coat the pan evenly with the egg mixture.
Cook until the mixture has firmed up on the bottom, about 1-2 minutes, and flip, cooking for 1 minute more.
Remove omelet and cut into small cubes. Set aside.
In a large sauté pan over medium-high heat, warm olive oil.
Add ginger and scallions to the pan, cooking until softened, about 2 minutes.
Season shrimp with garlic powder, salt and pepper and add to the pan.
Saute, tossing occasionally, until shrimp is cooked through, about 5-7 minutes.
Remove and discard ginger pieces.
Working in batches, stir in the day old rice until all rice is thoroughly mixed.
Stir in the soy sauce until evenly coated.
Fold in the egg pieces and serve.