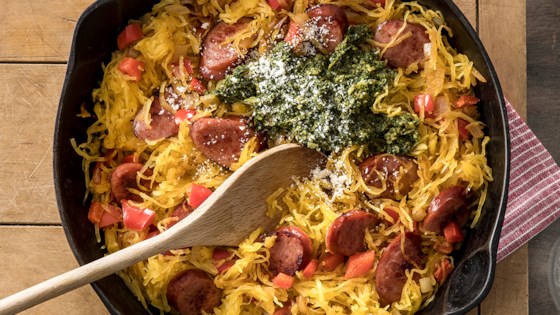 1 medium spaghetti squash, halved and seeded
2 tablespoons olive oil, divided
1/4 teaspoon salt
1/4 teaspoon ground black pepper
1 (14 ounce) package Hillshire Farm® Smoked Sausage, bias-sliced 1/2-inch thick
1 red bell pepper, chopped
1 onion, chopped
1/2 cup pre-made basil pesto
1/4 cup grated Parmesan cheese
Preheat oven to 400 degrees F.
With a fork, pierce squash halves several times.
Rub the inside of the halves with 1 tablespoon olive oil.
Sprinkle with salt and pepper.
On a foil-lined, rimmed baking sheet, arrange squash, flesh side down.
Bake 45 to 50 minutes or until very tender.
Meanwhile, in a 12-inch skillet, heat remaining 1 tablespoon oil over medium heat.
Cook and stir sausage, red pepper,
and onion 6 to 8 minutes or until sausage is browned and pepper and onion are crisp-tender.
Cool baked squash slightly.
Shred insides with a fork.
Add spaghetti squash to skillet and cook and stir until heated through, about 2 minutes.
Just before serving, carefully stir in pesto and sprinkle with Parmesan cheese.