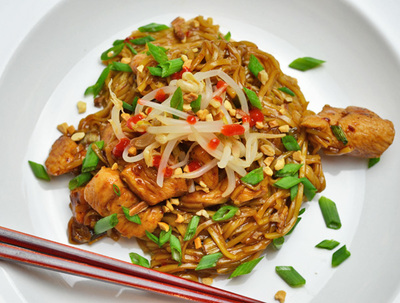 2 lbs. chicken breast fillets, skinless and boneless
2 tablespoons peanut oil, plus more for cooking chicken
1 (6 ounce) package chow mein noodles (or Chinese egg noodles)
1½ tablespoons garlic, minced
½ cup green onion, chopped
1 tablespoon ginger, minced
½ cup soy sauce
¾ cup chicken broth
1/3 cup dark brown sugar
2 teaspoons thai garlic chili paste
2 tablespoons cornstarch
½ cup water
Garnish
½ cup bean sprouts, or
½ cup peanuts
Sriracha and green onions
Sauté seasoned cubed chicken breast in a skillet in a little oil for ten to twelve minutes; then set to the side.
Prepare the chow mein noodles following package directions. (I had to boil mine for three minutes to five minutes and then rinse with cold water.)
Add garlic, ginger, and green onion to the same wok pan or skillet over medium heat, sauté for just a few seconds; careful that the garlic doesn't burn.
Add soy sauce, chicken broth, brown sugar and chile-garlic sauce.
Combine the cornstarch with ½ cup water and stir it into the sauce.
Simmer sauce for about 2 minutes or until it thickens.
Once thick, add the chicken and simmer for an additional 3 minutes.
Add the noodles to the pan and stir gently.
Garnish with bean sprouts or peanuts before serving.