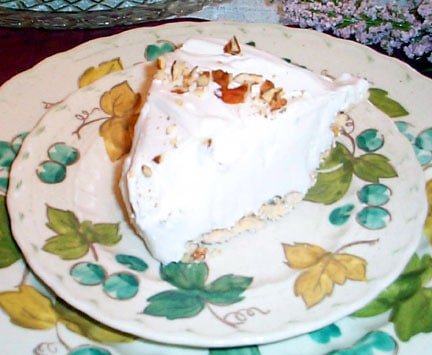 3 Egg Whites (room temperature, about 1/3 cup)
1/4 teaspoon Cream Tarter
1 teaspoon Vanilla
3/4 cup Sugar
1/3 cup Pecans (chopped small, lightly roasted for crust)
1/4 cup Pecans (chopped medium, topping)
1/2 cup Ritz Crackers (chopped in fine pieces, lightly roasted for crust)
12 ounces Whipped Topping (Cool-Whip)
In a preheated oven at 350 place 1/3 cup pecans and Ritz crackers for 5 minutes. You want to lightly roast the nuts and crackers. Watch them carefully so they do not burn. The crackers and nuts should be a light golden in color. Remove from oven when golden and place on paper towel until cool.
Add vanilla and cream of tarter to egg whites and beat until stiff. Slowly add sugar and continue to beat egg whites until very stiff, peaks form and sugar is dissolved. Fold in 1/3 cup pecans and Ritz crackers.
Place in a 10" pie pan that has been lightly sprayed with a non stick baking spray. Spread the meringue to the sides and cover the bottom of pan. The meringue will be about 1" - 1 1/8" thick layer in the pie pan. Hollow out a little hole in the middle of the bottom of the meringue the size of half a dime, this will help with a even baking of the shell. If you have any meringue left make little nest bake the same manor and fill with leftover pudding or fruits.
Place in a preheated oven at 275 degrees for 1 hour. Check shell, the meringue should not scorch, it will turn light tan in color. Turn oven off and let shell dry in the oven for another hour. Remove shell and cool. When shell is cool place the whipped topping in the shell and sprinkle with 1/4 cup broken pecans. Place in refrigerator to completely chill before serving.
Meringue's will whip fluffier and be fuller when prepared at low humidity.