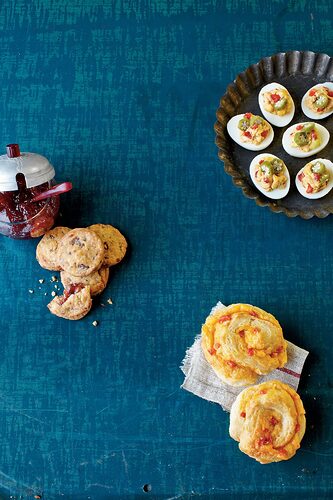 12 large eggs
1/4 cup mayonnaise
3/4 cup freshly grated smoked or sharp Cheddar cheese
1 jar 4 ounce diced pimientos with liquid
1 tablespoon Dijon mustard
salt and pepper
Toppings: sliced green onions, diced country ham, sliced pickled okra or spiced pecans
Place eggs in a large stainless steel saucepan.
Add water to depth of 3 inches.
Bring to a rolling boil; cook 1 minute.
Cover, remove from heat, and let stand 10 minutes, then drain.
Place eggs into cold water.
Remove one egg at the time and break the shells on all sides and place back in the water.
Next pull out each one and peel.
Cut eggs in half lengthwise; remove yolks.
Reserve 6 yolks for another use.
Mash remaining 6 yolks with mayonnaise using a fork.
Stir in cheese and next 3 ingredients.
Season with salt and pepper to taste.
Spoon into egg whites.
Serve with desired toppings.