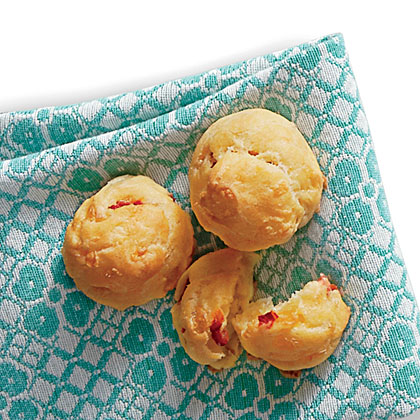 1/2 cup butter, cut up
3/4 teaspoon kosher salt
1 1/4 cups all-purpose flour
1 (4-oz.) jar diced pimiento, drained
4 large eggs
1 1/2 cups (6 oz.) finely shredded sharp Cheddar cheese
1 1/2 teaspoons Dijon mustard
1/4 teaspoon ground red pepper
Parchment paper
Preheat oven to 425°. Bring first 2 ingredients and 1 cup water to a rolling boil in a 3-qt. saucepan over medium heat; cook, stirring constantly, 1 minute. Add flour all at once, and beat vigorously with a wooden spoon 1 minute or until mixture is smooth and pulls away from sides of pan, forming a ball of dough. Reduce heat to low, and cook, stirring constantly, 2 minutes. (Dough will begin to dry out.) Remove from heat, and let stand 5 minutes.

Meanwhile, pat pimiento dry with paper towels, and finely chop.

Add eggs to dough, 1 at a time, stirring until blended after each addition. (If dough separates, don't worry. It will come back together.) Add pimiento, cheese, and next 2 ingredients; stir 2 minutes or until fully combined.

Drop half of dough by level tablespoonfuls 1 inch apart onto 2 parchment paper-lined baking sheets.

Bake at 425° for 10 minutes, placing 1 baking sheet on middle oven rack and other on lower oven rack. Reduce temperature to 325°, switch baking sheets, and bake 10 to 12 more minutes or until golden and crisp. Cool on baking sheets 5 minutes. Repeat procedure with remaining dough. Serve warm.
Note:
Make Ahead: Freeze completely cooled gougères in a zip-top freezer bag up to 1 month. To reheat, place frozen gougères on baking sheets, cover loosely with aluminum foil, and bake at 350° for 10 minutes or until warm.
Southern Living