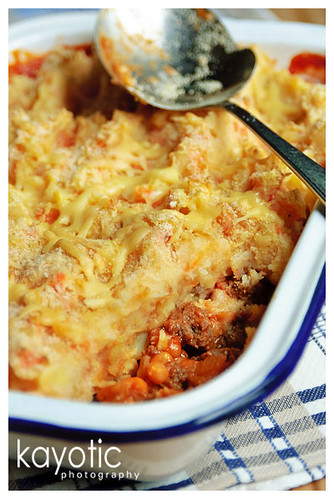 Puree:
1 pound potatoes
2 medium sized carrots
1 leek
1/4 cup milk
pepper & salt
Meat & Vegetable mix:
1 onion
1 garlic clove
2 tbsp oil
4 oz bacon
8.5 oz ground beef (or ground turkey)
3 tbsp BBQ sauce
12oz can white beans in tomato sauce
Worcestershire sauce
breadcrumbs
grated cheese
Let's start with the topping. Mashed potatoes and vegetables.
Peel the potatoes and carrots. Slice only the white and very light-green part of your leek and give everything a rough chop.
Until you end up with a chopping board full of pretty colored vegetables.
Wash the vegetables and boil them in lightly salted water, for about 15 minutes. Depending on how big you've chopped them, of course.
My grandma always said "If you've got it, flaunt it". So here I am, shamelessly flaunting my Jamie Oliver pans. Blame grandma!
I've seasoned 8.5 oz lean ground beef with 1/2 a tsp salt, lots of pepper and a few drops worcestershire sauce. Our Dutch BBQ sauces are more sweet than smokey, so omit the Worcestershire sauce if your BBQ sauce provides plenty smokiness. Knead until all the flavors have blended together.
Here's roughly 4oz finely chopped bacon. I didn't chop it; they sell it like this here for lazy bloggers, like me.
Behold 1 chopped onion and a decent sized grated garlic clove.
Heat 2 tbsp oil and cook the bacon for about 3 minutes. Add the onion and cook until the onion starts to brown. That's when you throw in the garlic and cook everything for an additional minute.
Get your ground beef in there as well, and break it up in coarse pieces. Cook the ground beef until it loses its rawness. If there's a lot of fat, just drain it. We don't have drive-through angioplasty yet, so look after yourself a little, okay!
Grab your BBQ sauce of choice. This happens to be mine. I like to judge a book by its cover, and well, this sauce bottle just looks so sassy. Oh, it tastes good to boot. Add 3 slightly heaping tbsp to the ground beef.
Stir it in and let the beef mix simmer, over low heat, for about 5 minutes.
Your potatoes will probably be done by now. Drain them and coarsely mash them.
Pour in 1/3 cup of milk and season the puree with salt and pepper. Or Lawry's Seasoned Salt, as I like to do.
This is what the BBQ beef will look like after 5 minutes. Time for the next ingredient.
A good old fashioned can of white beans in tomato sauce. Believe it or not, but this is my kinda food. I could eat it straight from the can.
Stir to combine. Pop the lid on and simmer, over low heat, for 10 minutes.
This is what it's going to look like after 10 minutes.
Transfer the beef and beans to a baking dish.
Top it with the mashed potatos & vegetables. Don't flatten it out, it just looks prettier when you draw some peaks here and there. Sprinkle a good handful of bread crumbs on top.
Grate some of your favorite cheese and sprinkle it right on top of the breadcrumbs. No set quantities, just go with what feels good to you.
Bake the pie at 350F (180C) for about 25 to 30 minutes. Until the cheese has melted. You can leave it in the oven if you want a brown crust on top, I never really do; I prefer eating it when the cheese has just melted and the breadcrumbs have a slight bite to them. Potato peaks can dry out so easily when you let them brown.
Note
I've made a pie for two (and a half). Adjust the quantities to suit your needs.
Pioneer Woman