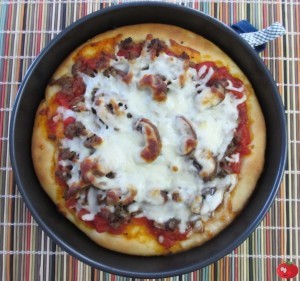 1 1/3 cup water at 105° F
1/4 cup non-fat dry milk
1/2 teaspoon salt
4 cups all-purpose flour
1 tablespoon sugar
1 package dry yeast
2 tablespoons vegetable oil (for the dough)
6 ounces vegetable oil (2 ounces per pan)
Butter-flavored non-stick cooking spray
For the pizza
Pizza sauce 1 cup, see below
Italian sausage, crumbled, cooked, and drained
Mozzarella cheese, shredded
Fresh mushrooms, sliced, sauteed in Italian seasoning
Combine the yeast, sugar, salt, and dry milk in a large bowl.
Slowly stir in the warm water.
Let sit for two minutes.
Stir in the 2 tablespoons of oil.
Add the flour and stir until a dough starts to form. Continue stirring until the flour is absorbed.
Remove the dough to a very lightly floured surface and knead for 10 minutes. The dough will form a wonderful consistency and smooth texture.
Add 2 ounces of oil to each of 3 9" cake pans. Make sure the oil is spread out evenly in the pan.
Divide the dough into 3 equally-sized balls. Roll each ball out to a 9" circle and place in the pans. Spray edges of dough with the non-stick spray.
Cover the pans with a dish towel or a plate and place in a warm area (around 78° F) and let the dough rise until doubled, 1 to 1 1/2 hours.
Preheat oven to 475° F.
Divide sauce between pans. Add sausage, cheese, and mushrooms, or whatever toppings you desire.
Bake pizzas for about 15 minutes or until the crust is golden brown and hardened and the cheese is melted.
Pizza Sauce
1/4 cup olive oil
3-5 cloves garlic, chopped
2-3 shallots, chopped
3 tablespoon fresh thyme, chopped (or 1 tablespoon dried)
3 tablespoon fresh marjoram, chopped (or 1 tablespoon dried)
1 cup dry white wine
1 large can diced tomatoes
1 large can chopped tomatoes
1 small can tomato paste
1 tablespoon sugar
1 teaspoon hot pepper flakes
2 tablespoons fresh basil, chopped (or 2 teaspoons dried)
Heat oil over high heat. Add garlic, shallots, thyme and marjoram and saute for 3 minutes.
Add wine and reduce by 1/2, about 3 minutes.
Add the two cans of tomatoes. Simmer, stirring often, for 7 minutes.
Add 1/2 -3/4ths of the can of tomato paste, sugar, and hot pepper flakes. Simmer an additional 7 minutes, stirring often.
Add salt and pepper to taste and add the basil, cook another 1 minute