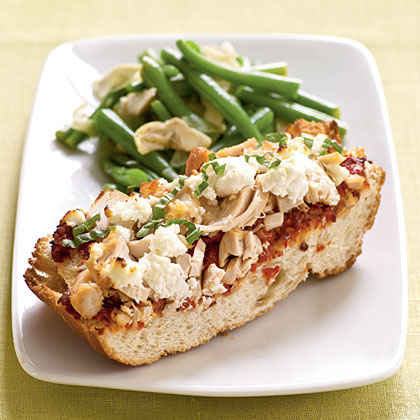 1/4 cup niçoise olives, pitted
3 tablespoons fresh basil leaves
3 tablespoons drained oil-packed sun-dried tomatoes
1 teaspoon grated lemon rind
2 tablespoons fresh lemon juice
1 1/2 teaspoons minced fresh garlic
1 teaspoon water
1 (16-ounce) loaf Italian bread, split in half horizontally
2 cups thinly sliced roasted skinless, boneless chicken breast
3/4 cup crumbled goat cheese
2 tablespoons chopped fresh basil
Preheat oven to 450°.
Combine first 7 ingredients in a food processor; process until smooth.
Place bottom half of bread, cut side up, on a baking sheet
(reserve top half for another use).
Spread olive mixture over bread. Arrange chicken over bread; sprinkle with cheese.
Bake at 450° for 10 minutes or until heated. Sprinkle with basil.
Cut into 4 pieces.
Artichoke–green bean salad: Place 2 cups (2-inch) cut green beans in boiling water;
cook 5 minutes or until crisp-tender.
Drain and rinse with cold water; drain.
Place beans in a small bowl.
Drain 1 (6 1/2-ounce) jar marinated artichoke hearts, reserving marinade.
Thinly slice artichoke hearts; add to beans. Add reserved marinade,
1 tablespoon fresh lemon juice, 1/4 teaspoon black pepper, and 1/8 teaspoon salt to bowl;
toss to coat.