PizzaVino, located in Sebastopol, California, has generously shared their secret recipe with us. Besides their mouth-watering pizzas, they are renowned for their exceptional Italian cuisine, which features a fantastic seasonal menu. One of their specialties is the Caesar salad, which is simply outstanding.
The salad features tender lettuce that is coated with a creamy and tangy Caesar dressing. The secret to this dish lies in the use of fresh-made croutons crafted from focaccia bread. This salad is perfect as a refreshing side dish or even as a light meal.
Enjoy!
=-=-=-=-=-=-=-=-=-=-=-=-=
New Secret Recipe Alert
=-=-=-=-=-=-=-=-=-=-=-=-=
PizzaVino's Caesar Salad with Crunchy Croutons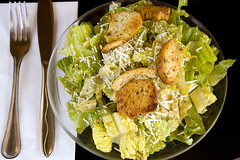 Crunchy croutons:
5 cups fresh focaccia bread, cubed
1/4 cup olive oil
1/4 teaspoon sea salt, or to taste
Heat the oven to 350 degrees. In a large bowl, toss the cubed focaccia with the olive oil until evenly coated, then toss with the salt. Spread the bread on a large, rimmed baking sheet and toast until golden and crunchy, 15 to 20 minutes.
Caesar salad dressing:
2 cloves garlic
3 anchovies, or to taste
Zest and juice of ½ lemon, divided
1 1/2 teaspoons red wine vinegar
Worcestershire sauce
1 egg
1 cup olive oil, more as desired
Salt and freshly ground black pepper
Using a mortar and pestle, or in a food processor, grind the garlic and anchovy into a paste.

In a medium bowl, combine the garlic-anchovy paste with the lemon zest, red wine vinegar, 1 to 2 dashes of Worcestershire sauce and egg. Whisk to combine, then whisk in the lemon juice.

While whisking, slowly drizzle in the olive oil to thicken and emulsify the dressing. Season and adjust the flavoring as desired. This makes about 1 cup dressing, more than is needed for the remainder of the recipe. The dressing will keep, covered and refrigerated, for 2 to 3 days.
Caesar salad assembly:
12 cups tender romaine leaves (such as baby romaine), washed and drained
1/3 to ½ cup Caesar salad dressing, more as desired
2 to 4 tablespoons freshly grated Parmigiano-Reggiano
Croutons
In a large bowl, toss the romaine leaves with dressing just to coat. Plate the salad on a serving platter or on individual plates. Sprinkle the Parmigiano-Reggiano evenly over the salad, and top with the croutons. Serve immediately.
Serves 4-6
Source: LA Times
Until Next Time… Be Well!
RSN