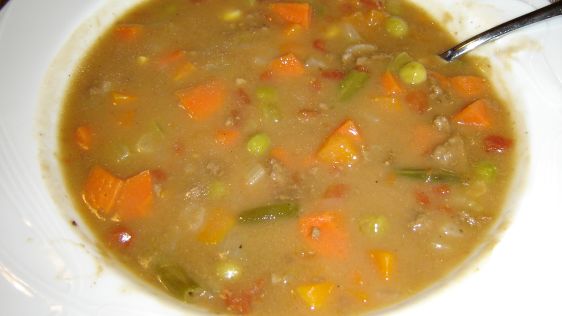 4 tablespoons butter
1/2 cup all-purpose flour
20 ounce Beef consomme
1/4 cup diced carrot
1/4 cup diced celery
1/4 cup diced onion
1/2 cup diced canned tomatoes
3/4 teaspoon Kitchen Bouquet
1 beef bouillon cube
1/4 teaspoon Ground Black Pepper
1/2 teaspoon MSG – Monosodium Glutamate – Accent
5 ounces frozen Mixed Vegetables
1/2 pound Ground Beef browned and drained
Place the butter in a soup pot and allow it to melt without browning. Add flour and stir to form a smooth paste. Cook the mixture over medium heat, without browning for 3 minutes, stirring constantly.
Add the consomme to the roux and stir until smooth and slightly thickened. Bring to a full boil. Add the fresh vegetables, tomatoes, and seasonings and allow it to regain a boil. Reduce the heat and simmer until the vegetables are just barely tender. (This should take about 20 to 30 minutes.) Add the frozen vegetables and browned ground steak. Simmer an additional 15 minutes.