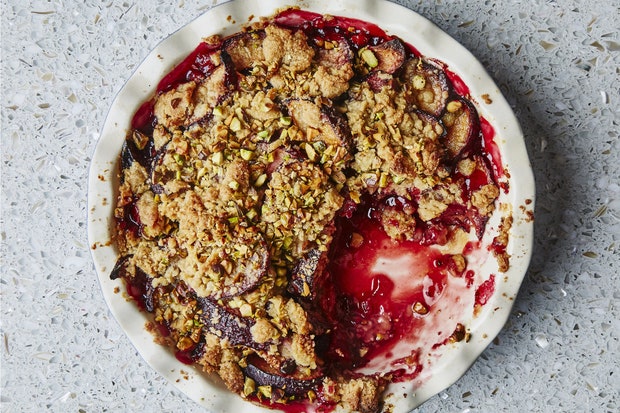 3 lb. any variety ripe plums, sliced 1/3" thick (about 8 cups)
2 tsp. finely grated lemon zest
2 Tbsp. fresh lemon juice
1/4 cup cornstarch
1/2 cup plus 1/3 cup (packed) light brown sugar
1 tsp. kosher salt, divided
3/4 tsp. ground cardamom or ground cinnamon, divided
3/4 cup all-purpose flour
6 Tbsp. chilled unsalted butter, cut into small pieces
2 Tbsp. coarsely chopped raw pistachios
Place a rack in lower third of oven; preheat to 350°F.
Toss plums, lemon zest, lemon juice, cornstarch, 1/2 cup brown sugar,
1/2 tsp. salt, and 1/4 tsp. cardamom in a large bowl;
let sit until some juices accumulate, 5–10 minutes.
Meanwhile, pulse flour and remaining 1/3 cup brown sugar, 1/2 tsp. salt,
and 1/2 tsp. cardamom in a food processor to combine.
Add butter and pulse until mixture is very sandy and starts to form larger clumps.
Transfer plums and their juices to a 9"-diameter deep pie dish.
All of those fruit juices will overflow a standard one) or an 8x8x2" baking dish.
Scatter topping over fruit, squeezing small fistfuls in your hand to bring it together,
then breaking into smaller pieces of varying sizes.
Sprinkle pistachios evenly over topping.