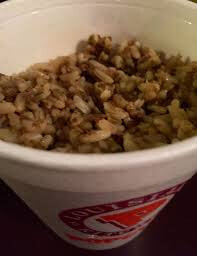 -A Repost
We used to have a Popeye's in my neighborhood, but unfortunately it closed. I always loved the side dishes that they offered. This recipe for Popeye's Dirty Rice could not be more quick and easy! Cook this up with some fried chicken, and you will be set!
1lb Spicy breakfast sausage
1/2 cup long grain rice
1 (14oz) can of clear chicken broth
1 tsp dry minced onion
Brown the sausage in a skillet until cooked through. As it cooks, crumble the sausage with a fork.
Stir in the broth, rice and minced onion.
Cover and simmer for about 15-20 minutes or until the rice is tender. Most of the broth should be absorbed.