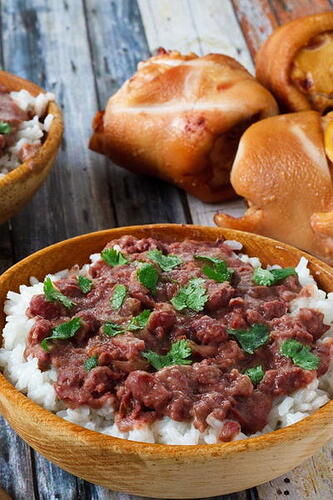 3 cans red beans
1 smoked ham hock or 1/4 teaspoon liquid smoke
1 1/4 cups water
1/2 teaspoon onion powder
1/2 teaspoon garlic salt
1/4 teaspoon red pepper flakes
1/2 teaspoon salt
3 tablespoons lard
1/4 teaspoon freshly ground pepper
Cooked long-grain rice, for serving
Pour 2 of the cans of beans into a 2-quart saucepan and add the ham hock and water. Simmer on medium heat for an hour, until the meat starts to loosen from the bone.
Remove from the heat and cool until the hock is cool enough so you can remove the meat from the bone. Place the meat, beans, and liquid from the pot in a food processor. Add the onion powder, garlic salt, red pepper, salt, and lard. Process for only 4 seconds. The beans should be chopped and the liquid thick. Drain the remaining can of beans and add to the processor. Process for just a second or two; you want these beans to remain almost whole.
Pour everything back into the pan and cook slowly on low heat, stirring often, until you're ready to serve. Serve over a premium long-grain rice.