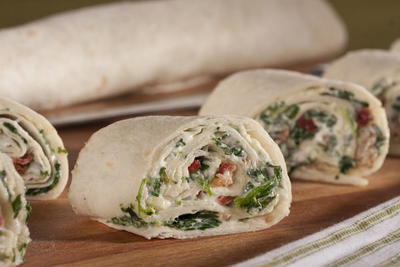 1 (10-ounce) package frozen chopped spinach, thawed and well drained
1 cup mayonnaise Coupons
1 (8-ounce) container sour cream
3 scallions, thinly sliced
1 (.4-ounce) envelope Ranch-style dressing mix
1 (3-ounce) package bacon bits
9 (10-inch) flour tortillas
In a large bowl, combine all ingredients except tortillas; stir well.
Spread mixture on tortillas, distributing evenly. Roll up jelly roll fashion; wrap each in plastic wrap.
Chill 4 to 6 hours. Cut into 1/2-inch-thick slices and serve.