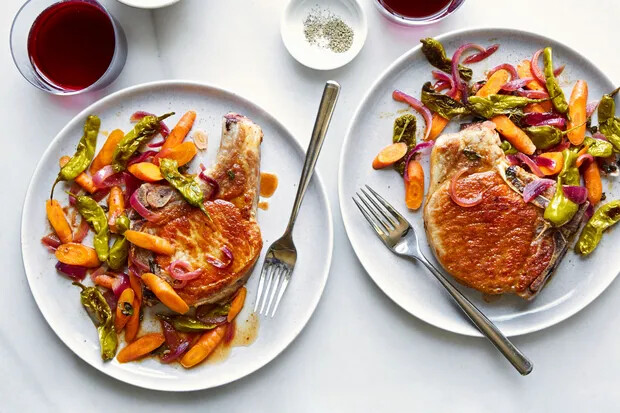 2 1–1½" bone-in pork chops (about 1 lb. total)
6 tsp. kosher salt, divided
1 tsp. coriander seeds
2 cups small Padrón chiles or shishito peppers, stems trimmed of dry ends but not completely cut off
1 small red onion, halved through root end, sliced ¼" thick
2 small garlic cloves, thinly sliced
8 oz. small carrots (about 6), tops trimmed, scrubbed, sliced ¼" thick on a diagonal, or 8 oz. large carrots (about 2), tops trimmed, peeled, halved, sliced ¼" thick on a diagonal
3 Tbsp. red wine vinegar
1 Tbsp. sherry vinegar or red wine vinegar
1 Tbsp. honey
1 tsp. paprika
5 Tbsp. extra-virgin olive oil, divided
3 Tbsp. coarsely chopped oregano
Season each pork chop all over with 1 tsp. salt and let sit at least 1 hour or chill on a wire rack set inside a rimmed baking sheet, uncovered, up to 2 days.
Preheat oven to 425°. If pork chops have been chilling in the fridge, let sit at room temperature while you make the escabèche.
Finely grind coriander seeds in a spice mill or with a mortar and pestle; set aside. Heat a dry large skillet over high. Add chiles in a single layer and cook, turning with tongs or a large spoon, until evenly blistered on all sides and deeply browned in spots, 5–7 minutes. Transfer chiles to a small pot; reserve skillet. Add red onion, garlic, carrots, red wine vinegar, sherry vinegar, honey, paprika, reserved ground coriander, 4 Tbsp. oil, remaining 4 tsp. salt, and 2 Tbsp. water to pot. Set over low heat, cover, and bring liquid to a gentle simmer. Cook, stirring vegetables often to keep submerged, until just-cooked through and still al dente, about 10 minutes. Remove escabèche from heat and stir in oregano.
Heat remaining 1 Tbsp. oil in reserved skillet over high. Arrange pork chops in pan so bone ends are in the center (this part cooks slower and this will help with even browning) and press down on pork chops with tongs to ensure surface is making good contact with the pan. Cook until golden underneath, about 3 minutes. Turn pork chops over and press down on them again. Transfer to oven and roast until an instant-read thermometer inserted into the thickest part registers 130° for medium (you should still have a little pink flesh; temperature should rise to about 145° when the pork chops rest), 5–7 minutes. Transfer pork chops to a cutting board and let rest 10 minutes.
To serve, transfer pork chops to plates and spoon escabèche over.