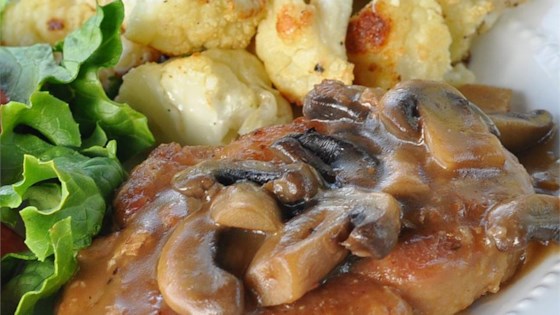 1/3 cup all-purpose flour
1/4 teaspoon salt
1/4 teaspoon garlic salt
3/4 teaspoon garlic powder
1/2 teaspoon dried oregano
1 pound boneless pork loin chops or tenderloin, pounded thin
3 tablespoons butter
1/4 cup olive oil
2 cups sliced fresh mushrooms
1 teaspoon minced garlic
3/4 cup Marsala cooking wine
Mix flour, salt, garlic salt, garlic powder, and oregano together in a medium bowl.
Add pork chops, and toss until well coated.
Heat butter and olive oil in a large skillet over medium heat.
Place pork in skillet in a single layer, and cook, turning occasionally, until brown on both sides.
Add mushrooms and minced garlic; cook and stir briefly.
Stir in wine, scraping the skillet to loosen any brown bits.
Cover and simmer over medium heat until pork is tender and sauce is thickened, about 15 minutes.
If sauce is too thick, adjust by stirring in a small amount of wine.
Note
I prefer tenderloin.