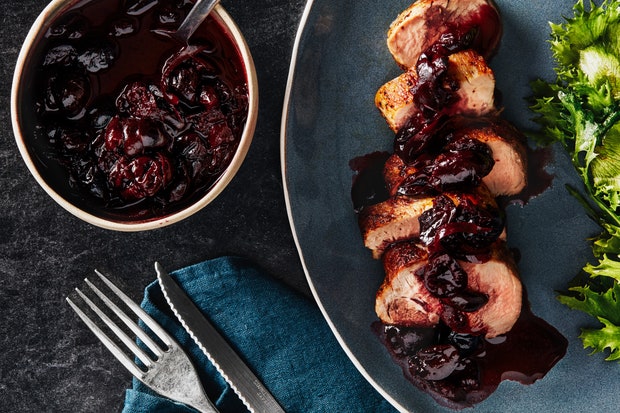 1 teaspoon ground coriander
Kosher salt, freshly ground black pepper
2 pork tenderloins (about 2 pounds total)
2 tablespoons olive oil
1 large shallot, thinly sliced lengthwise (about 1 cup)
10 sprigs thyme
1 1/4 cups dry red wine
1 tablespoon balsamic vinegar
1 tablespoon sugar
1 (10-ounce) package frozen dark sweet cherries, thawed, halved (about 2 cups)
1 tablespoon cold unsalted butter
Combine coriander, 1 tsp. salt, and 1/4 tsp. pepper in a small bowl. Rub pork with spice mixture.
Heat oil in a 12" heavy skillet over medium-high until hot but not smoking. Reduce heat to medium and cook pork, turning occasionally, until meat is browned on all sides and an instant-read thermometer inserted diagonally into the center of each tenderloin registers 145°F, 20–25 minutes. Transfer pork with tongs to a cutting board (do not wipe out skillet) and let stand 10 minutes.
Meanwhile, cook shallot and thyme in skillet, stirring, until softened and lightly golden, about 2 minutes. Add wine, vinegar, and sugar. Bring to simmer and cook, scraping up any browned bits and stirring frequently, until liquid is reduced by about half and shallots are tender, about 4 minutes. Stir in cherries, any accumulated juices, and 3/4 tsp. salt and cook 1 minute. Remove from heat, add butter, and swirl skillet to combine. Pluck out thyme sprigs, then season with salt and pepper. Slice pork and serve with sauce.
Epicurious