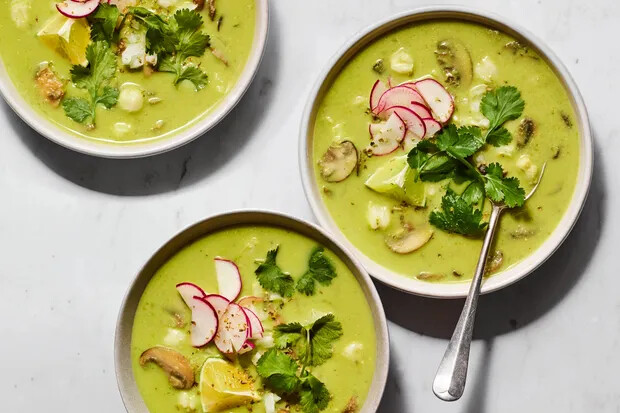 1¼ lb. tomatillos, husks removed, rinsed
2 garlic cloves
3 poblano chiles, halved, seeds removed, coarsely chopped
1 serrano chile, coarsely chopped (optional)
1 cup salted, roasted pumpkin seeds (pepitas)
1 cup chopped cilantro, plus more for serving
1 cup chopped parsley, plus more for serving
3 Tbsp. chopped white onion, plus more for serving
6 cups low-sodium vegetable broth, divided
1½ tsp. kosher salt, divided, plus more
2 Tbsp. vegetable oil
2 lb. mixed mushrooms (such as white button and crimini), thinly sliced
½ tsp. freshly ground black pepper
2 15-oz. cans hominy, drained
2–3 radishes, trimmed, halved, thinly sliced crosswise
Lime wedges and dried oregano (for serving)
Combine tomatillos and garlic in a medium saucepan, pour in water to cover, and bring to a boil. Reduce heat and simmer until tomatillos are mushy and soft but not falling apart, about 10 minutes.
Transfer tomatillos, garlic, and 1 cup cooking liquid to a blender. Add poblano chiles, serrano chile (if using), pumpkin seeds, 1 cup cilantro, 1 cup parsley, 3 Tbsp. white onion, 1 cup broth, and 1 tsp. salt. Purée until smooth; set aside. Work in batches if needed, or blend directly in saucepan with an immersion blender if you have one.
Heat oil in a large pot over high. Once it's hot, but not smoking, add mushrooms and sprinkle pepper and remaining ½ tsp. salt over; toss to combine. Cook, stirring occasionally, until mushrooms release all of their liquid and it evaporates and edges of mushrooms begin to brown, 8–10 minutes.
Pour tomatillo purée into pot, reduce heat to medium, and cook, stirring occasionally, until purée thickens and darkens in color, about 10 minutes.
Add hominy and remaining 5 cups broth to pot, stir to combine, and cook until flavors have come together, 12–15 minutes. Taste and season pozole with more salt if needed.
Serve pozole verde with radishes, lime wedges, dried oregano, more white onion, cilantro, and parsley alongside so guests can top their bowl as desired.