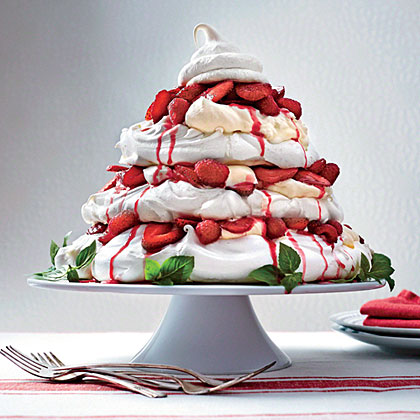 2 cups sugar
2 tablespoons cornstarch
8 large egg whites, at room temperature
1/2 teaspoon cream of tartar
1/4 teaspoon table salt
1/2 teaspoon almond extract
Parchment paper
Cheesecake Icing (see below)
Sweetened whipped cream
2 pounds assorted fresh red berries (such as sliced strawberries and raspberries)
Preheat oven to 225°. Whisk together sugar and cornstarch. Beat egg whites at medium-high speed with a heavy-duty electric stand mixer, using whisk attachment, 1 minute; add cream of tartar and salt, beating until blended. Add sugar mixture, 2 Tbsp. at a time, beating until mixture is glossy, stiff peaks form, and sugar dissolves. (Do not overbeat.) Beat in almond extract. Reserve 1 cup meringue.

Gently spread enough meringue onto a parchment paper-lined baking sheet to make a 10-inch round (about 1 to 1 1/2 inches high). Repeat procedure twice on another parchment paper-lined baking sheet, making an 8-inch round and a 6-inch round. Make an indentation in center of each meringue to hold filling.

Spoon reserved 1 cup meringue into a large zip-top plastic freezer bag. Snip 1 corner of bag to make a small hole. Pipe meringue onto baking sheet next to 10-inch round to resemble a large chocolate kiss.

Bake at 225° for 1 hour and 30 minutes or until outsides have formed a crust. Turn oven off; let meringues stand in oven, with door closed, 2 to 10 hours.

Place 10-inch meringue on a serving plate. Fill indentation with desired amount of icing, whipped cream, and berries. Top with remaining meringue layers, icing, whipped cream, and berries. Top with kiss-shaped meringue. Serve within 1 hour.
Cheesecake Icing
1/4 cup butter
1 (8-oz.) package cream cheese, softened
1/2 cup sour cream
1/2 cup powdered sugar
1/4 teaspoon table salt
Beat butter and softened cream cheese at medium speed with an electric mixer until smooth. Add sour cream; beat until smooth. Gradually add powdered sugar and salt; beat until well blended. Use immediately, or chill up to 48 hours.
Southern Living