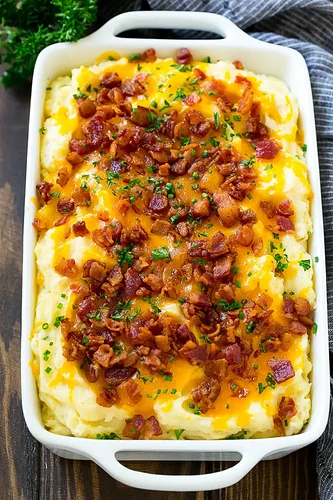 1 (24-ounce) package refrigerated mashed potatoes
2 cup (8 ounces) shredded sharp Cheddar cheese, divided
1 cup (4 ounces) shredded Monterey Jack cheese with peppers
1/2 (8-ounce) package cream cheese, cut into cubes
1/2 tsp salt
1/2 tsp black pepper
1 cup sour cream
2 cooked chicken breasts, shredded
1/2 cup barbecue sauce
6 slice precooked bacon, crumbled
Preheat oven to 375 degrees F.
Coat a 7- x 11-inch baking dish with cooking spray.
In a large microwaveable bowl, stir together mashed potatoes, 1 cup Cheddar cheese, the Monterey Jack cheese, cream cheese, salt, and pepper.
Cover and microwave on HIGH 4 minutes. Stir in sour cream.
Spoon potato mixture into prepared baking dish.
Arrange chicken evenly over potatoes, drizzle with barbecue sauce, sprinkle evenly with bacon, and the remaining Cheddar cheese.
Bake 15 minutes, or until casserole is thoroughly heated and cheese is melted.