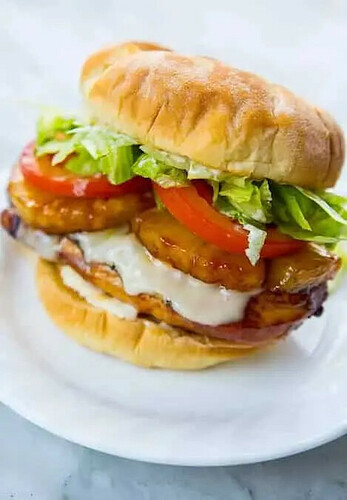 1/2 cup water
1/4 cup soy sauce
1/4 cup light brown sugar
1/8 teaspoon onion powder
1/8 teaspoon garlic powder
1 5-ounce skinless chicken breast fillet
2 canned pineapple slices
2 slices Swiss Cheese
1 sesame seed hamburger bun
4 teaspoons mayonnaise
2 tomato slices
shredded iceberg lettuce
Teriyaki Marinade: Combine the first 5 ingredients in a small saucepan over
medium heat. Bring mixture to a boil then reduce heat and simmer for 10
minutes or until sauce thickens. Cover and chill marinade in the
refrigerator for at least 30 minutes.
Chicken and Pineapple: Cover the chicken breast fillet with plastic wrap.
Using a kitchen mattlet pound chicken to about 1/2-inch thick. Pour a small
amount of teriyaki glaze into a plastic container with a lid (such as
Tupperware), then place chicken in the container. Add teriyaki glaze to
cover the chicken, but make sure you save some to marinate the pineapple
slices. Seal up the container and pop it into the fridge for at least 4
hours, but no more than 12 hours.
Put the two pineapple slices into another container with a lid, add the
remaining teriyaki glaze, cover the container and chill it in the
refrigerator for the same time as the chicken.
To Prepare Sandwich: Preheat barbecue or grill to medium. Grill chicken for
to 6 minutes per side. At the point you turn the chicken breast add the
pineapple slices to the grill. Grill pineapple about 3 or 4 minutes. About 1
minute before the chicken is done place 2 slices of Swiss cheese on top of
the fillet to melt. Toast the face of the top and bottom sesame seed bun on
an indoor griddle or skillet over medium heat.
Build the sandwich: Spread approximately 2 teaspoons of the mayo on each
of the toasted faces of the top and bottom bun. Stack the chicken breast on the
bottom bun. Arrange the tomato slices on the chicken. Stack the grilled
pineapple on top of the tomato slices. Add about 1/3 cup of shredded lettuce
on next, top with the top bun.