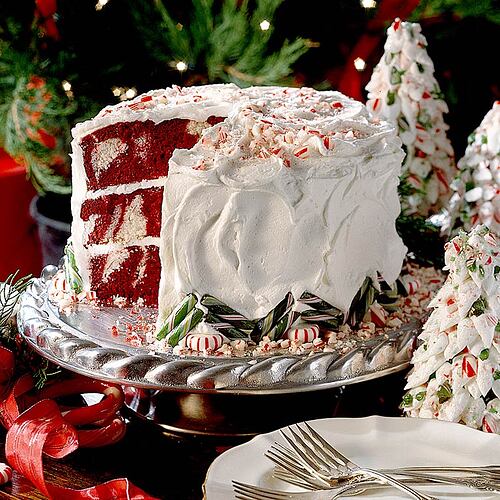 1 (18.25-ounce) package white cake mix
3 egg whites
1 1/3 cups buttermilk
2 tablespoons vegetable oil
1 (9-ounce) package yellow cake mix OR
1 3/4 cups yellow cake mix may be substituted
1/2 cup buttermilk
1 large egg
1 1/2 tablespoons cocoa
1/2 teaspoon baking soda
2 tablespoons liquid red food coloring
1 teaspoon cider vinegar
Peppermint Cream Cheese Frosting
Garnishes: Holiday Trees, 6 (5-inch) red and white peppermint candy canes, crushed; 12 (5-inch) green candy canes, broken; 12 round peppermint candies
Beat first 4 ingredients according to cake mix package directions.
Beat yellow cake mix and next 6 ingredients according to package directions. Spoon red batter alternately with white batter into 3 greased and floured 9-inch round cakepans. Swirl batter gently with a knife.
Bake at 350° for 22 to 25 minutes or until a wooden pick inserted in center comes out clean. Cool in pans on wire racks 10 minutes. Remove from pans; cool on wire racks.
Spread Peppermint Cream Cheese Frosting between layers and on top and sides of cake. (Cake may be chilled up to 2 days or frozen up to 1 month.) Garnish, if desired. Serve within 2 hours.
NOTE: For testing purposes only, we used Duncan Hines Moist Deluxe White Cake Mix, Jiffy Golden Yellow Cake Mix, and McCormick Red Food Color.
If cake is frozen, thaw completely before garnishing to prevent crushed candy from running. Do not refrigerate after garnishing.
Peppermint Cream Cheese Frosting
1 (8-ounce) package cream cheese, softened
1 cup butter or margarine, softened
1 (2-pound) package powdered sugar
2 teaspoons peppermint extract
Beat cream cheese and butter at medium speed with an electric mixer until creamy. Gradually add sugar, beating at low speed until smooth. Add extract, beating until blended.
*2 teaspoons vanilla extract may be substituted.
For Quick Peppermint Frosting, stir together 3 (16-ounce) containers ready-to-spread cream cheese frosting and 2 teaspoons peppermint extract.
Southern Living