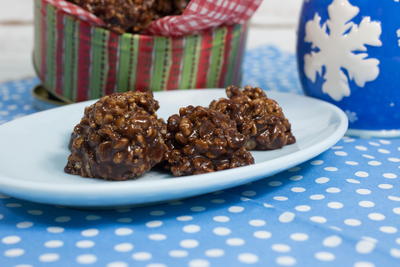 There is another version on this site that I tried last year which were delicious.
Except for butter this one has completely different ingredients.
4 tablespoons butter
1 (5-ounce) bag mini marshmallows
1 (12 ounce) jar caramel ice cream topping
1 (12-ounce) bag chocolate chips
6 cups Rice Krispies cereal
Place butter into a 3-quart saucepan and place over low heat. Let it melt completely, then stir in marshmallows and continue to stir until melted.
Remove from heat and stir in the caramel and chocolate chips, stirring until mixture is combined and smooth. Stir in the cereal until it is well coated and mixed. Let cool slightly.
Roll between your palms, or scoop with a #2 ice cream scoop, into 1-inch balls. Set them on foil or parchment paper to firm up.