Today's Restaurant Secret Recipe from Relish in Kings Park, New York. Relish is a retro-style diner that serves delicious comfort favorites like pancakes, burgers, sandwiches and more. One of their signature dishes is the pot roast sandwich. Perfectly seasoned beef is slow roasted, sliced and served on a sandwich that is doused in au jus and served with a horseradish cream sauce.
We also have a huge selection of sandwich recipes on our forum.
Enjoy!
=-=-=-=-=-=-=-=-=-=-=-=-=-=-=-=-=-=-=-=-=-=-=-=
Discover How The Foods You Eat Every Day Are Making
Your Fat Cells SICK…Here
=-=-=-=-=-=-=-=-=-=-=-=-=-=-=-=-=-=-=-=-=-=-=-=
=-=-=-=-=-=-=-=-=-=-=
New Secret Recipe
=-=-=-=-=-=-=-=-=-=-=
Relish's Pot Roast Sandwich
Like this recipe? Get our Restaurant Secret Recipes Cookbook – Here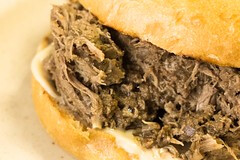 1 Piece 8 Pound Beef Clod Heart
2 Large Carrots
6 Celery Stalks
2 Large Onions
3 Bay Leaves
6 Garlic Cloves
2 Quarts Beef Stock
2 Cups Red Wine
Kosher Salt
Ground Black Pepper
2 Tablespoons Vegetable Oil
Season Meat Liberally with salt and pepper.

Heat vegetable oil in Dutch Oven.

Brown seasoned meat on all sides, turning until well browned.

Remove from pan, set aside.

Add remaining oil and mirepoix (carrots, celery, onions) to the Dutch Oven.

Season vegetables with salt and pepper and cook until lightly browned.

Deglaze with red wine.

Add Beef and Beef stock back into Dutch Oven.

Add Bay Leaves and Garlic cloves.

Cover tightly and cook in a 350 degree oven for 7-8 hours.

Remove from pan, Let cool.

Strain Juices and reserve.

Slice when cool 1-inch thick pieces.

Reheat with strained Jus.

For sandwich, top with Muenster cheese and serve on a toasted roll dipped in au jus with a side of horseradish cream
Horseradish cream sauce:
1 Cup Sour Cream
1/2 Cup Mayo
2 Tbsp Horseradish
1 Tbsp Worcestershire Sauce
Salt and Pepper to taste
Combine ingredients in a bowl.
Have a comment or question about this recipe? Post it here
Source: Restaurant Hunter
Get more secret restaurant recipes on our Secret Recipe Forum: Here
Until Next Time… Be Well!
Kind Regards,
RSN