This Secret Recipe shows you how to make a classic Southern pecan pie. Rib City Grill in Rifle, Colorado isn't only known for succulent fall-off-the bone ribs; they also make a rich and delicious pecan pie.
This recipe will create a perfect flaky crust along with the yummy pecan filling. Top each slice with a dollop of whipped cream and enjoy.
Enjoy!
=-=-=-=-=-=-=-=-=-=
New Secret Recipe
=-=-=-=-=-=-=-=-=-=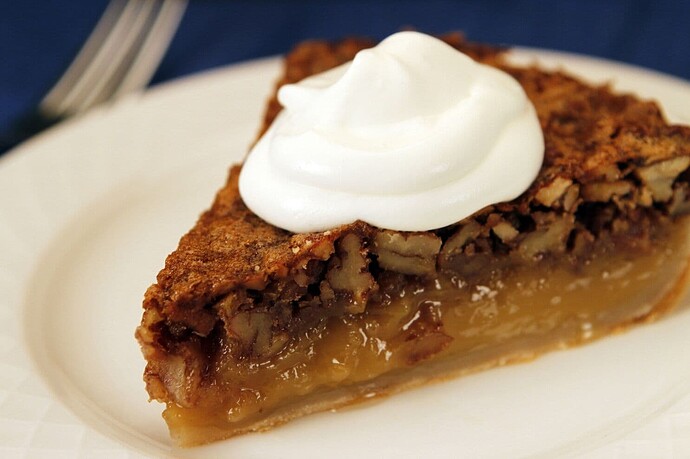 =-=-=-=-=-=-=-=-=-=-=-=-=-=-=-=-=-=-=-=-=-=
The Alpine Secret For Healthy Weight Loss.
=-=-=-=-=-=-=-=-=-=-=-=-=-=-=-=-=-=-=-=-=-=
Rib City Grill's Pecan Pie
1/3 cup (2.7 ounces) butter, softened
3/4 cup (5 ounces) sugar
1/2 cup plus 2 tablespoons (5 ounces) dark corn syrup
1/2 cup plus 2 tablespoons (5 ounces) light corn syrup
1/8 teaspoon salt
2 teaspoons vanilla extract
4 eggs, beaten
2 1/2 cups (10 ounces) chopped pecans
1 (10-inch) prepared unbaked pie shell
Heat the oven to 350 degrees F.
In the bowl of a stand mixer using the paddle attachment, or in a large mixing bowl using a hand mixer, beat together the butter and sugar until fully combined, about 1 1/2 minutes.
Scrape down the sides of the bowl, then beat in the dark and light corn syrup. Beat in the salt and vanilla. Scrape down the sides of the bowl to make sure everything is evenly combined.
With the mixer running over low speed, slowly pour in the beaten eggs. Beat the ingredients well, making sure the beaten eggs are fully incorporated into the mix.
Fold the chopped pecans into the batter using a spatula.
Place the prepared pie shell onto a foil-lined rimmed baking sheet.
Pour the mixture into the pie shell, and place the baking sheet in the oven.
Bake the pie until the custard filling is puffed and set (it should jiggle only very slightly when tapped) and a toothpick inserted in the center comes out clean, 50 to 60 minutes. Line the outer crust with foil if it browns too quickly before the custard is set.
Cool the pie on a rack for at least 2 hours before slicing and serving.
Servings: 8
Source: LA Times
Get more secret restaurant recipes on our Secret Recipe Forum: Go Here
Like Copycat Recipes? Get our Secret Recipes Cookbook Here.
Enjoy!
Until Next Time… Be Well!
Kind Regards,
RSN