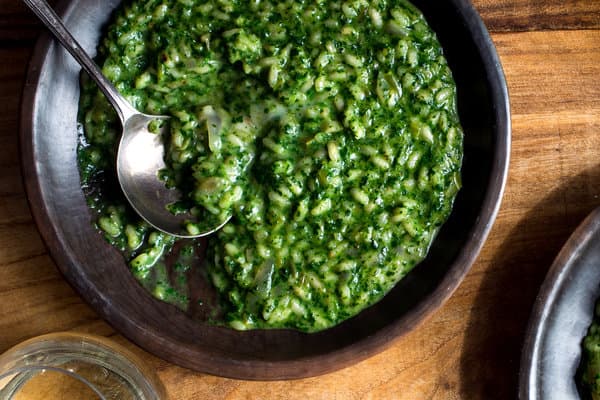 8 ounces cold taleggio
8 packed cups spinach, any thick stems removed
6 tablespoons unsalted butter
1 medium red onion, finely diced
3 cups finely diced celery
2 garlic cloves, finely grated or minced
1½ cup Arborio rice
1 teaspoon fine sea salt, more as needed
¾ cup dry white wine
3½ cups good vegetable or chicken stock
Cut the rind off the taleggio and discard. Dice the cheese into 1/2-inch pieces. Set aside at room temperature as you prepare the rice.
Line a colander with a clean dish towel and place spinach inside. Heat about 8 cups of water until boiling, then pour over spinach; the spinach will wilt. Let spinach sit until cool enough to handle, then use the dish towel to squeeze out the water. Transfer spinach to a food processor and blend with 1 tablespoon butter until smooth. Reserve.
Melt remaining 5 tablespoons butter in a large skillet over medium heat. Stir in onion, celery and garlic; cook until translucent, about 7 minutes. Stir in rice and 1 teaspoon salt, and cook until toasted and golden, about 5 minutes.
Stir in wine and cook until it's absorbed, about 3 minutes. Stir in stock, about 1/2 cup at a time, stirring often but not necessarily continuously, until the stock is finished and the rice is cooked through but not mushy, 15 to 20 minutes.
Stir in spinach then taste and add more salt, if needed. Add taleggio and stir to melt. Serve immediately.