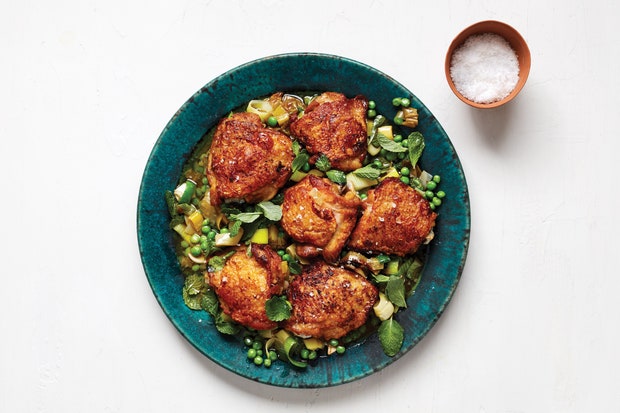 6 skin-on, bone-in chicken thighs (about 2 1/2 lb. total)
1 Tbsp. ground coriander
Kosher salt
2 Tbsp. extra-virgin olive oil
3 large leeks, white and pale green parts only, sliced 1/2" thick
4 garlic cloves, thinly sliced
5 (2x1") strips lemon zest
2 bay leaves
1/3 cup dry white wine
1 1/2 cups low-sodium chicken broth
1 cup fresh (or frozen, thawed) peas
1 cup mint leaves, torn if large
Preheat oven to 350°F. Pat chicken thighs dry; sprinkle flesh side with coriander.
Season generously all over with salt.
Heat oil in a large high-sided or cast-iron skillet over medium.
Cook chicken, skin side down, undisturbed, until thighs release easily from pan, about 4 minutes.
Continue to cook, scooting chicken around occasionally for even browning, until golden brown, about 5 minutes more.
Transfer chicken to a plate.
Pour out all but 2 Tbsp. fat from skillet and return to medium heat.
Add leeks and garlic and cook, stirring occasionally, until slightly softened, about 3 minutes.
Add lemon zest and bay leaves and cook, stirring, until fragrant, about 20 seconds.
Pour in wine, scraping up any brown bits stuck to bottom of pan with a wooden spoon. Cook until wine is almost completely evaporated, about 3 minutes. Add broth and bring to a simmer.
Return chicken to skillet, arranging skin side up.
Transfer skillet to oven; roast chicken until cooked through and juices run clear when poked with a paring knife, 15–20 minutes.
Transfer chicken to a plate.
If using fresh peas, cook in same skillet over medium heat until tender and bright green, about 3 minutes.
If using frozen, cook just until warmed through, about 1 minute.
Toss in mint; season with more salt if needed.
Arrange vegetables and chicken in a large shallow bowl or on a platter.