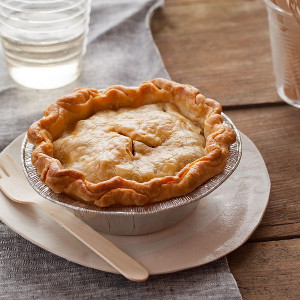 3 tablespoons extra virgin olive oil, divided
6 cremini mushrooms, thinly sliced
1 yellow onion, diced
1 green bell pepper, seeded and diced
1 garlic clove, minced
1 carrot, peeled and diced
1 cup sweet corn
½ lb lean ground beef
2 sweet Italian sausages, casings removed
½ cup ham, diced
½ cup pepperoni, thinly sliced
2/3 bacon, cooked and diced
¼ cup all purpose flour
1 cup low sodium beef broth
½ cup parmesan, grated
2 store bought packages pie dough
1 egg, lightly beaten
2 tablespoons cream
6 4" disposable pie tins
Preheat oven to 425°F.
Cut 12 5 inch circles out of the store bought dough rounds.
Form 6 of the circles into the bottoms of the aluminum pie tins.
Place the prepared tins and remaining circles in the refrigerator until ready to use.
Heat 1 ½ tablespoons olive oil in a sauté pan over medium-high heat.
Add the mushrooms to the pan and sauté for 2 to 3 minutes.
Add the onions, bell peppers, carrot, corn and garlic and continue to sauté for 3 to 4 minutes.
Remove the vegetables from the pan and set aside.
Heat the remaining oil in the pan over medium-high heat and begin browning the ground beef and sausage. Season with salt and pepper.
Add the ham, pepperoni and bacon and continue to cook for 3 minutes.
Stir the vegetables into the meat mixture.
Sprinkle the flour over the top of the filling, season with salt and pepper and stir to prevent lumps from forming.
While stirring, incorporate the broth into the filling and cook until slightly thickened.
Remove from heat and fold in the grated parmesan. Allow to cool.
Once the filling has cooled, remove the prepared pie shells from the refrigerator and fill each with the meat filling.
Top each pie with the remaining dough circles and press the edges together with the back of a fork.
Whisk together the egg and cream and brush onto the tops of each pie.
Place the pies onto a baking sheet, cut a small slit on the tops and bake in the oven for 25 to 30 minutes or until golden brown.